Nancy's Pizza Beans
I first made this recipe early in the pandemic when grocery shopping was a big stress and we were all looking for recipes with mostly pantry ingredients. I don't remember if I shared this recipe with my friend Nancy or vice versa, but Nancy definitely coined the name "Pizza Beans" and it has become a favorite of both our girls.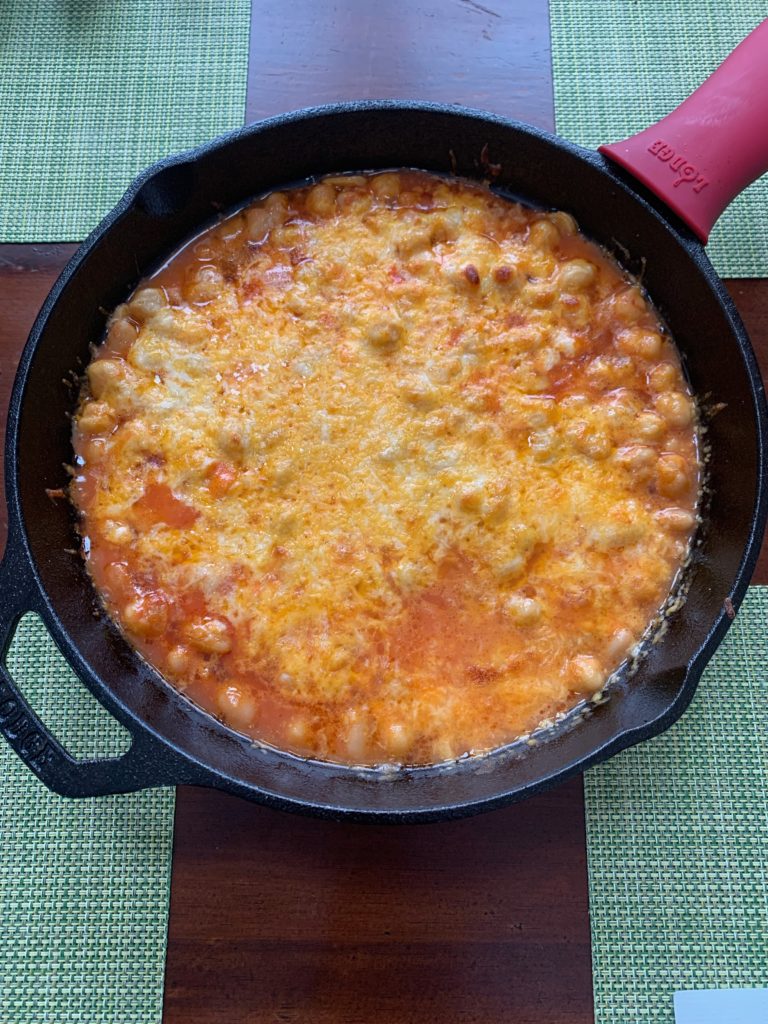 It's amazing how much flavor the oil, garlic, and tomato paste create. I usually use only white beans and I prefer a mix of mozzarella and parmesan. Some crusty bread and a side salad makes for a nice vegetarian meal!
Last night, I halved the recipes since just Charlotte was partaking. I used a small 8″ skillet for a "personal" pizza beans.
---
Ali Slagle, NYT Cooking
INGREDIENTS
¼ cup extra-virgin olive oil
3Â fat garlic cloves, thinly sliced
3Â tablespoons tomato paste
2Â (15-ounce) cans white beans (such as cannellini or Great Northern) or chickpeas, drained and rinsed
½ cup boiling water
 Kosher salt and black pepper
â…"Â pound mozzarella, coarsely grated (about 1 1/3 cups)
PREPARATION
Heat the oven to 475 degrees. In a 10-inch ovenproof skillet, heat the olive oil over medium-high heat. Fry the garlic until it's lightly golden, about 1 minute. Stir in the tomato paste (be careful of splattering) and fry for 30 seconds, reducing the heat as needed to prevent the garlic from burning.
Add the beans, water and generous pinches of salt and pepper and stir to combine. Sprinkle the cheese evenly over the top, then bake until the cheese has melted and browned in spots, 5 to 10 minutes. If the top is not as toasted as you'd like, run the skillet under the broiler for a minute or 2. Serve at once.
---
---