White Bean Piccata Pasta with Broccoli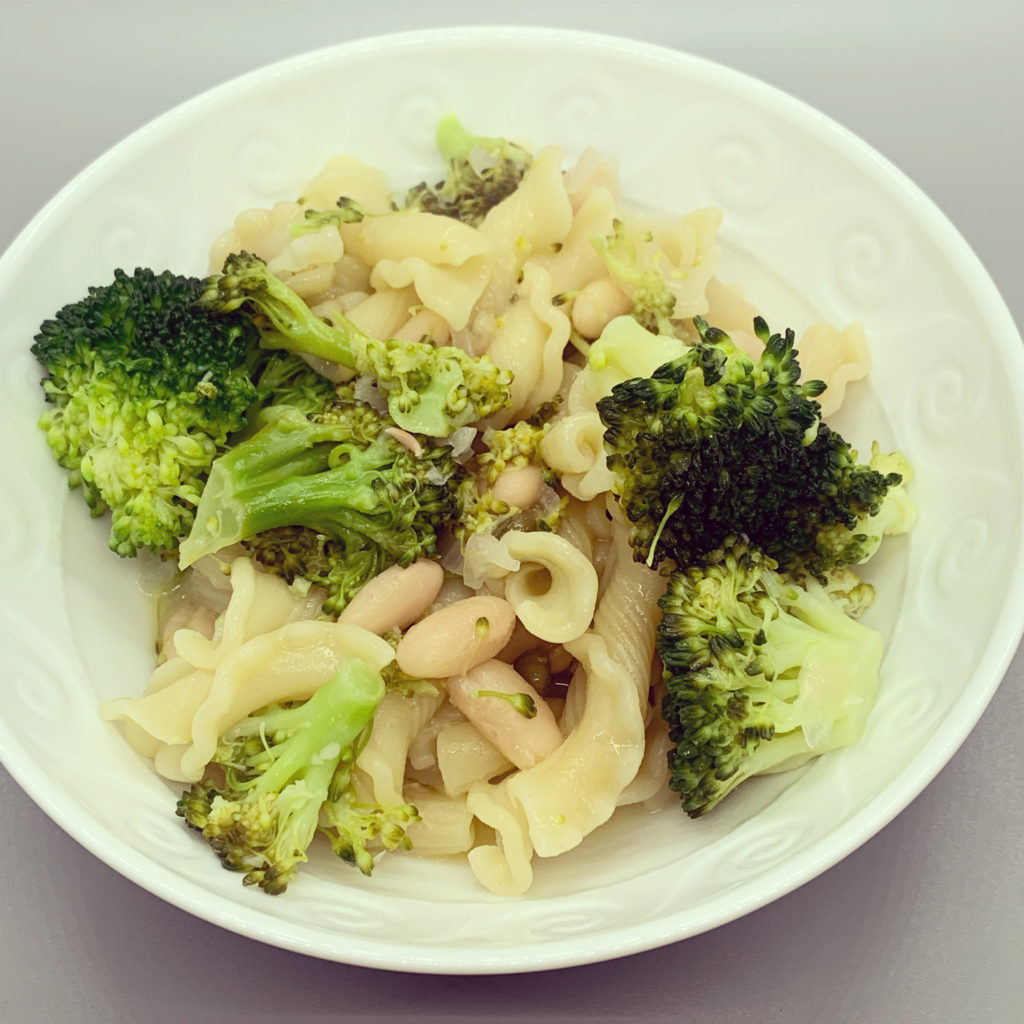 I love Chicken Piccata and Charlotte loves anything lemon and claims broccoli is her favorite food. So, this riff on chicken piccata seemed like a perfect meal for my new vegetarian. Her favorite flavor, vegetable, and some beans for protein made this dish a hit.
A few notes though for next time I make it. The broccoli doesn't need 3 minutes with the pasta. I'd do 2 minutes max if you prefer a firmer veggie like I do. Use more lemon juice! I think I used 5 to 6 tablespoons in total.
Lastly, and most importantly, top with lots of grated parmesan. Charlotte said that is a must and I agree.
---
INGREDIENTS
Kosher salt
1 pound mezze rigatoni or casarecce
2 cups small broccoli florets (from 1 head broccoli)
6 tablespoons unsalted butter
1 shallot, finely chopped
½ cup dry white wine
1 (15-ounce) can white beans, such as cannellini or great Northern, drained and rinsed
¼ cup drained capers
3 tablespoons lemon juice, plus lemon wedges for serving
Black pepper
¼ cup finely chopped parsley
PREPARATION
Bring a large pot of salted water to a boil. Add the pasta and cook according to package instructions until al dente. Three minutes before the pasta is done, add the broccoli (the broccoli should be crisp-tender when the pasta is al dente). Reserve 1/2 cup pasta cooking water, then drain the pasta and broccoli.
While the pasta cooks, make the sauce: In a large (12-inch) skillet, melt the butter over medium-high heat. Add the shallot and a pinch of salt and stir until softened, 1 to 2 minutes. Add the white wine and cook until reduced by half, 1 to 2 minutes.
Add 1/4 cup of the pasta water, the beans, capers and a pinch of salt, and simmer until saucy and slightly thickened, 1 to 2 minutes.
Reduce the heat to medium, add the lemon juice, cooked pasta and broccoli, and stir until the pasta is coated in the sauce, adding pasta water as needed to coat. Season to taste with salt and pepper. Transfer to bowls, top with parsley and serve with lemon wedges.

Serves 4.
---
---