Turkey Meatloaf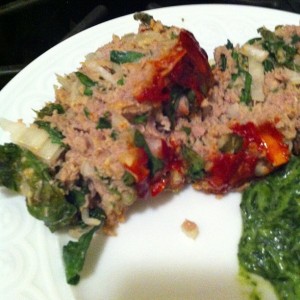 Here is a super simple and delicious turkey meatloaf.
I made a few changes so I could use what was in our fridge. Â I used swiss chard and curly parsley (from my mother-in-law's garden) instead of spinach and flat-leaf parsley. Â I also used seasoned breadcrumbs — didn't have whole wheat breadcrumbs. Â I think the addition of dijon mustard added a great flavor to the meatloaf.
Turkey Meatloaf
Real Simple
1 1/2  pounds  lean ground turkey
1Â  onion, chopped
1Â  bunch spinach, thick stems removed and leaves chopped (about 4 cups)
1  cup  fresh flat-leaf parsley, chopped
1/2  cup  whole-wheat bread crumbs
2Â  tablespoons Dijon mustard
1Â  large egg white
Kosher salt and black pepper
1/4  cup  ketchup
Heat oven to 400° F. In a bowl, combine the turkey, onion, spinach, parsley, bread crumbs, mustard, egg white, and ½ teaspoon each salt and pepper.
Transfer the mixture to a baking sheet and form it into a 10-inch loaf. Spread with the ketchup. Bake until cooked through, 45 to 50 minutes.
---
---