Turkey & Bean Chili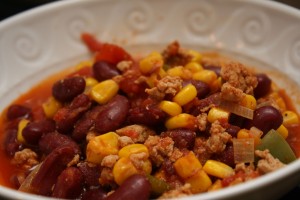 As you have probably surmised by now, I love chili!   The other day I wanted to make a chili that Charlotte could try; so, my go-to turkey chili which is super spicy did not fit the bill.  I found this recipe in my new Real Simple cookbook and it was a hit!  Much milder than what I usually cook which was perfect for Charlotte.  And, I just needed to add a few dashes of Cholula to my bowl for a bit of a kick.
The recipe seem very heavy on the beans relative to the turkey — it calls for 1/2 pound of ground turkey and 2 cans of kidney beans.  I upped the turkey to 1 pound.  If you increase the turkey to a full pound, you might up the chili powder and cumin a bit.
In the last few minutes of cooking, I added frozen corn for some color, crunch, and additional flavor.  Serve with avocado, shredded cheese, and sour cream.
Overall, the chili was tasty and a nice change of pace from my usual turkey chili.
Turkey & Bean Chili
Real Simple
1 tablespoon olive oil
1 onion, chopped
1 green bell pepper, chopped
2 cloves garlic, chopped
1/2 pound ground turkey (preferably dark meat)
2 tablespoon tomato paste
1 teaspoon ground cumin
1/2 teaspoon ground chipotle chili pepper or 2 teaspoons chili powder
1 28-ounce can diced tomatoes
2 15-ounce cans kidney beans, rinsed
kosher salt and black pepper
1/4 cup reduced-fat sour cream
cilantro sprigs, for serving
Heat the oil in a large saucepan over medium-high heat. Add the onion, bell pepper, and garlic. Cook, stirring occasionally, until tender, 4 to 6 minutes.  Add the turkey and cook, breaking up with a spoon, until no longer pink, 3 to 5 minutes.  Stir in the tomato paste, cumin, and chili pepper. Cook, stirring, for 1 minute.
Add the tomatoes and their juices, beans, ½ cup water, 1 ¼ teaspoons salt, and ¼ teaspoon pepper. Bring to a boil.
Reduce heat and simmer, stirring occasionally, until slightly thickened, 12 to 15 minutes.
Serve the chili with the sour cream and cilantro.
---
---