Weelicious: Turkey Pesto Meatballs
Update 1/26/2021:
This recipe – which couldn't be easier – has stood the test of time. My now 10 year old (!) has made it on her own.
It's funny reading the original post. Charlotte still shies away from beef and pork but she loves turkey and chicken and these meatballs are among her favorite weeknight dinners.
I made these last night. Tim and I enjoyed with roasted broccoli and sautéed kale as we try to keep the carbs to a minimum. Charlotte loves them over pasta.
I always use Rao's marinara because it is simply the best. I use either Barilla's jarred pesto or Giovanni Rana's refrigerator pesto. In the summer I use homemade pesto.
I usually cook them for 10 minutes longer than the recipe calls for.
---
My friend Amy bought me the Weelicious cookbook for my birthday. Â The recipes are family-friendly, healthy, and relatively easy to make.
Other than hot dogs, Charlotte is not much of a meat eater. Â But I keep trying new things in the hope that I find a dish or two featuring meat that she'll enjoy. Â The Weelicious cookbook is proving to be a good source for some recipes Charlotte will enjoy.
These turkey meatballs looked so simple but tasty! Â The addition of pesto looked interesting and added a nice flavor. Â Charlotte and I both enjoyed them! Â She did not devour them but eating one meatball was a win!
One note: I had to cook the meatballs for about 10 minutes longer than the recipe called for.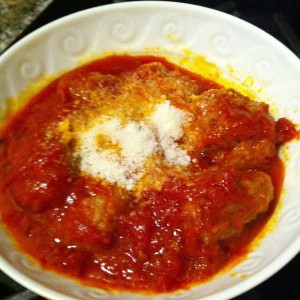 ---
Turkey Pesto Emails
Adapted from Weelicious Cookbook
1.5 lbs ground turkey
1/4 store-bought pesto
1/4 cup seasoned breadcrumbs
1/4 cup parmesan cheese
1 teaspoon salt
2 to 3 cups tomato sauce (I used Rao's)
Preheat oven to 350 degrees.
Place the turkey, pesto, bread crumbs, cheese, and salt in a large bowl and combine thoroughly.
Pour the tomato sauce into a 9×9 baking pan.
Use about 1 tablespoon per meatball, roll the mixture into balls and place in baking pan. Â Cover the baking dish with foil and bake for 25 minutes, or until cooked through.
 
---
---