Dipping Delights: Baked Mozzarella Bites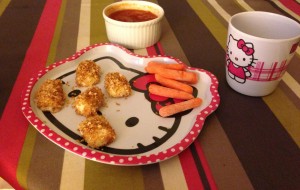 Here is an easy and tasty snack or lunch for your little one!  Charlotte loves cheese sticks so I figured these mozzarella bites would be a hit.
To prep, simply cut up a piece of string cheese, dip into egg or egg substitute, and dredge in some toasted panko.  Then bake for just two minutes to soften the cheese (the recipe calls for three minutes but a few pieces melted too much).  Serve with some marinara for dipping.  What kid doesn't like to dip?!
Everyone in the house loved them!  Tim and I gobbled up some leftover pieces and Angus ate one that hit the floor.
Baked Mozzarella Bites
Cooking Light
1/3 cup panko (Japanese breadcrumbs)
3 (1-ounce) sticks part-skim mozzarella string cheese
3 tablespoons egg substitute
Cooking spray
1/4 cup lower-sodium marinara sauce (such as McCutcheon's)
Preheat oven to 425°.
Heat a medium skillet over medium heat. Add 1/3 cup panko to pan, and cook for 2 minutes or until toasted, stirring frequently. Remove from heat, and place the panko in a shallow dish.
Cut mozzarella sticks into 1-inch pieces. Working with one piece at a time, dip cheese in egg substitute; dredge in panko. Place cheese on a baking sheet coated with cooking spray. Bake at 425° for 3 minutes or until the cheese is softened and thoroughly heated.
Pour the marinara sauce into a microwave-safe bowl. Microwave at HIGH 1 minute or until thoroughly heated, stirring after 30 seconds. Serve with mozzarella pieces.
---
---