Chicken Miso Meatballs
I bought white miso paste last week for a sheet-pan scallion chicken dish (which I highly recommend). When I searched for other recipes involving miso paste, these chicken miso meatballs caught my eye. I love meatballs (who doesn't) and one with an Asian flair sounded delicious.
Before I jump into the recipe….what is white miso paste?
Miso is a fermented paste that adds umami to dishes. White (sometimes called sweet miso) is light beige or yellow in color and tends to be lighter and sweeter than darker miso pastes due to a shorter fermentation time. It's made with less soybean content and more grains, like white rice.
I don't need to rush to use up my container — if stored in a tightly sealed container in the refrigerator, it will keep for a year. But I came across so many yummy-looking recipes in my hunt for how to use white miso paste, I think it will be gone shortly!
Now onto the recipe….I used ground turkey instead of ground chicken because it is what I had. If you are feeding a family of four, I'd double the recipe.
Crushed Ritz crackers serve as the breadcrumbs in the recipe. A few months ago, I cooked these Korean barbecue meatballs that also use Ritz crackers. I'm sure normal unseasoned breadcrumbs would work in either recipe but the Ritz crackers add a richness and juiciness (which helps with the low-fat content of ground chicken or turkey).
Definitely make the dipping sauce. The meatballs are good on their own but even better with the dipping sauce.
I served the meatballs with roasted broccoli (roasted at the same 425 degrees as the meatballs) and sautéed bok choy. For the bok choy, I put a few swirls of canola oil in a pan and added grated garlic and ginger. After a few minutes, I added the bok choy. After a few more minutes, I added a mixture of 1 teaspoon sesame oil, 1 tablespoon soy sauce, 1 tablespoon water, and some chili flakes. The bok choy continued to cook for a couple more minutes as the meatballs finished cooking.
Overall a delicious, healthy, and easy meal for a weeknight.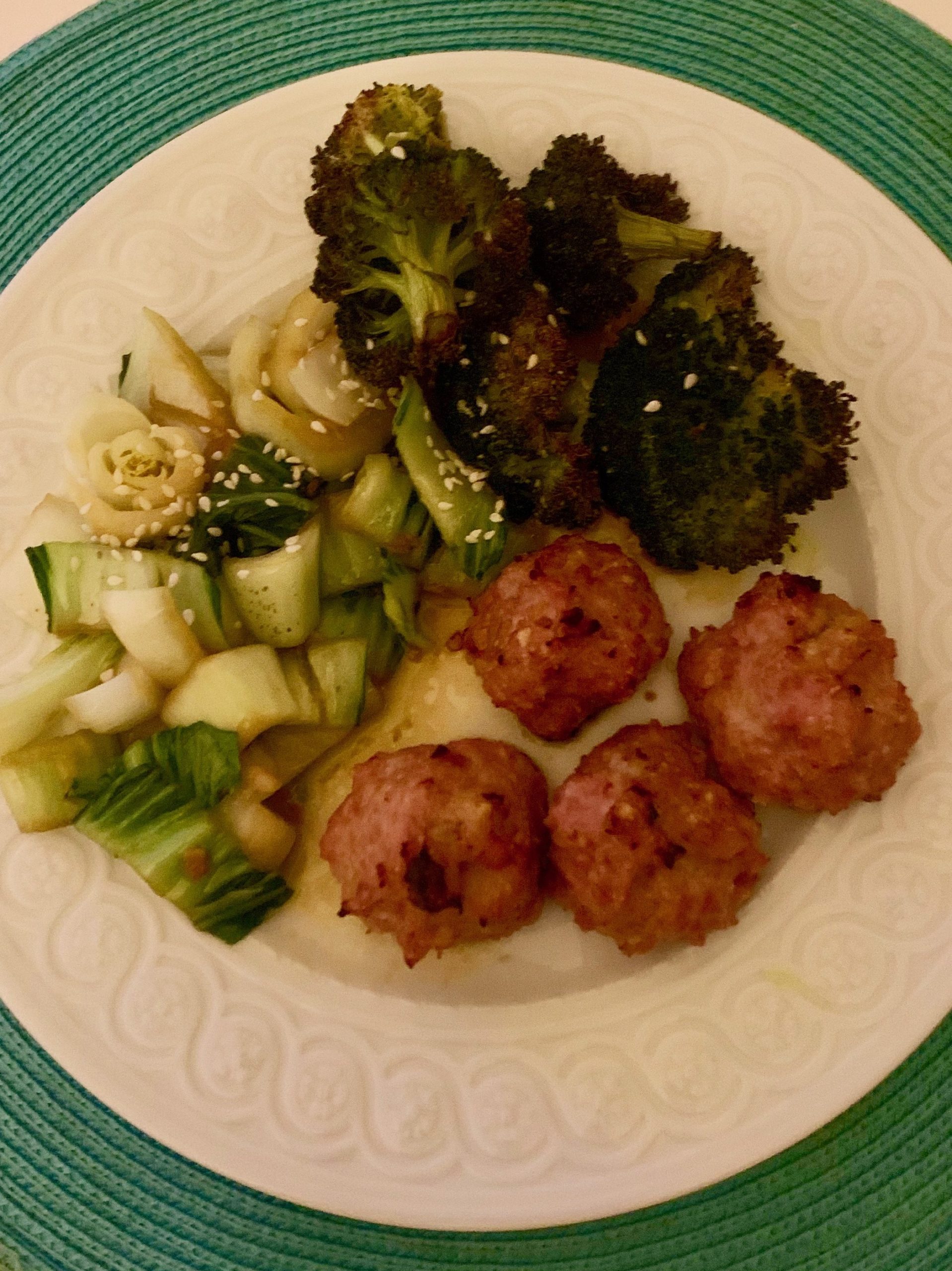 ---
INGREDIENTS
¼ cup whole milk
3 tablespoons sweet white miso
1 tablespoon minced garlic
1 teaspoons kosher salt
¾ teaspoon black pepper
½ cup finely crushed Ritz crackers (12 crackers)
1 pound ground chicken
PREPARATION
Heat oven to 425 degrees. In a large bowl, combine all the ingredients, and use your hands to gently mix. The mixture will be very sticky. Lightly wet your hands to prevent sticking during mixing and shaping meatballs.
Shape the meat into 12 golf-ball-size rounds (about 2 inches in diameter), and arrange on a greased rimmed baking sheet.
Bake until golden and cooked through, about 15 minutes. Serve warm.
Dipping sauce: combine 2 parts soy sauce to 1 part distilled white vinegar, and add sliced scallions, or red-pepper flakes, if you like heat.
---
---