Zucchini Tart With Crumbled Sausage and Dijon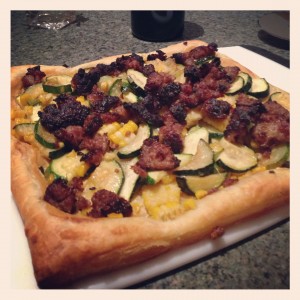 I posted a photo of this recipe on Facebook about a month ago.  It was the second time I made it and it is SO tasty.  I've made it with sweet and hot sausage.  Both work well.  I also added some grilled corn (as seen in photo).  The mustard – sausage combo is tasty and I think could work with a number of different veggies.
In general puff pastry is a great starting point for easy savory tarts.  Here are a few of my favorites:
These tarts are a great brunch, lunch, or dinner!  Super delicious with a simple green salad.
Zucchini Tart With Crumbled Sausage and Dijon
Real Simple
1 tablespoon olive oil
1/2 pound sweet Italian sausage links, casings removed
2 small zucchini (about 1 pound), sliced
kosher salt and black pepper
1 sheet puff pastry (half a 17.3-ounce package), thawed
3 tablespoons Dijon mustard
green salad, for serving
Heat oven to 400° F. Heat the oil in a large skillet over medium-high heat. Add the sausage and cook, breaking it up with a spoon, until cooked partway through, 3 to 4 minutes. Transfer to a plate using a slotted spoon; reserve the skillet.
Add the zucchini, 2 tablespoons water, ½ teaspoon salt, and ¼ teaspoon pepper to the drippings in the skillet. Cook, stirring occasionally, until just beginning to soften, 4 to 5 minutes.
Unfold the pastry on a baking sheet and prick all over with a fork, leaving a ½-inch border around the dough. Spread the mustard on the pastry (avoiding the border); top with the zucchini and sausage. Bake until the pastry is golden brown, 20 to 25 minutes.
Cut the tart into 8 pieces. Serve with salad.
---
---