Miso-Glazed Fish
My first post in 7(!!!) years. It's so hard to believe it has been that long. I'm not totally sure why I stopped posting but if I look back at the date of my last post I can piece it together. I took a year and a half off from working full time. This was smack in the middle of that period. Charlotte was 3 years old. It was a cold, snowy winter. I would trek around downtown NYC pushing a stroller through snowbanks. Charlotte would generally have a meltdown at bath time — a clear sign of exhaustion. And, by the time I cooked dinner, I was mentally and physically spent. I could muster up the energy to cook a nice dinner for me and Tim but documenting it felt like so much effort. So after 5 years of posting and nearly 400 posts, I just stopped.
So am I really restarting Weeknight Gourmet? Do people still blog? Do I need to do a TikTok of myself in the kitchen?
I'm going to restart but in a low pressure way. I have cooked a ton since the pandemic started (as I'm sure most of you have) so I have a lot of good recipes to share. If I make something worth posting, I'll write about it but not keep myself to a strict schedule like I used to. This is pure fun and a creative outlet — not a professional endeavor.
My first task was to dust off the old Weeknight Gourmet website. I did a few updates today so the site looks a bit more modern and won't give you SSL warnings as you browse.
And now the main event, the recipe….
Last week I made this Sheet-pan Scallion Chicken from NY Times Cooking (one of my go-to recipes sources) and I had leftover white miso paste I wanted to use. This miso-glazed fish recipe called out to me because it reminded me of a favorite dish from Nobu and Morimoto. If this recipe could scratch the itch for Japanese food that I've been missing, it would be a win! And it was.
I used salmon and only marinated it for the minimum time — next time I will do overnight. Lastly, I broiled it but in the Berkshires I'd like to try grilling it.
I'm no Nobu Matsuhisa and the salmon I used wasn't just flown in from the Tokyo fish market. But the flavor is a favorite of mine and one I don't cook at home often. I will definitely make this again.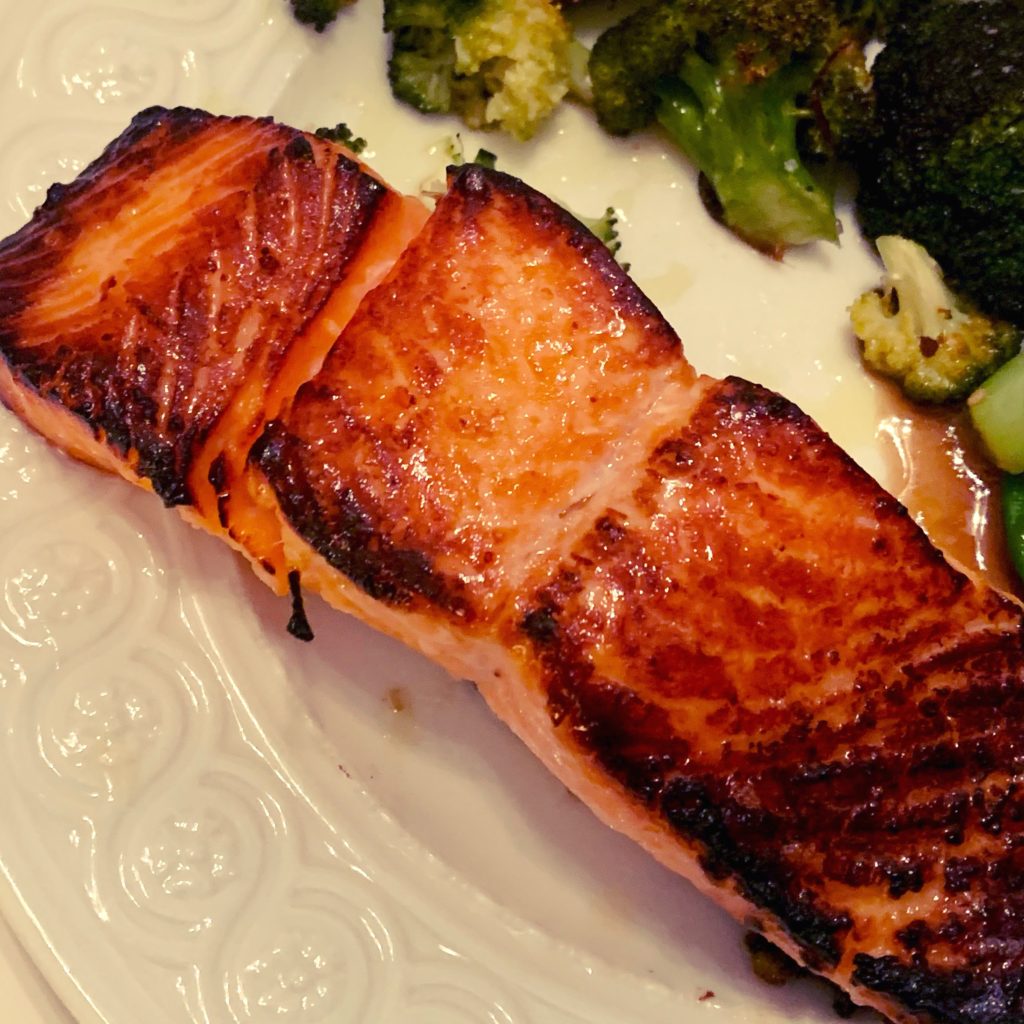 ---
Miso-Glazed Fish
Martha Rose Shulman, New York Times Cooking
INGREDIENTS
¼ cup mirin
¼ cup sake
3 tablespoons white or yellow miso paste
1 tablespoon sugar
2 teaspoons dark sesame oil
4 salmon, trout, Arctic char, mahi mahi or black cod fillets, about 6 ounces each
PREPARATION
Combine the mirin and sake in the smallest saucepan you have and bring to a boil over high heat. Boil 20 seconds, taking care not to boil off much of the liquid, then turn the heat to low and stir in the miso and the sugar. Whisk over medium heat without letting the mixture boil until the sugar has dissolved. Remove from the heat and whisk in the sesame oil. Allow to cool. Transfer to a wide glass or stainless steel bowl or baking dish.
Pat the fish fillets dry and brush or rub on both sides with the marinade, then place them in the baking dish and turn them over a few times in the marinade remaining in the dish. Cover with plastic wrap and marinate for 2 to 3 hours, or for up to a day.
Light the broiler or prepare a grill. Line a sheet pan with foil and oil the foil. Tap each fillet against the sides of the bowl or dish so excess marinade will slide off. Place skin side up on the baking sheet if broiling.
Place the fish skin side down on the grill, or skin side up under the broiler, about 6 inches from the heat. Broil or grill for 2 to 3 minutes on each side, until the surface browns and blackens in spots. If necessary (this will depend on the thickness of the fillets) finish in a 400-degree oven, for about 5 minutes, until the fish is opaque and can be pulled apart easily with a fork.
---
---