Cod & Kimchi Stew
I love the flavors of Korean food and I love spice! If you do too, then try this recipe.
The Korean flavor comes from the two key ingredients: gochujang and kimchi.
Gochujang is a Korean fermented chile paste that provides a great salty, spicy and umami-filled flavor. I've made a handful of recipes over the past year using gochujang and now keep a jar in the fridge.. Here's a great roasted chicken to start with if you want to experiment with this ingredient.
Kimchi is a traditional Korean side dish made from pickled and fermented vegetables, commonly cabbage and radish, seasoned with garlic, ginger, chili peppers, salt, and fish sauce. Growing up my friend who lived across the street was Korean-American and his family always had large jars of kimchi in their fridge that they procured from a Korean grocery. Now it is easier to find kimchi in most grocery stores (at least in New York City and the Berkshires). Two brands I've purchased are Mother In Law's Kimchi (from Fresh Direct) and Hosta Hill (at Guido's in the Berkshires).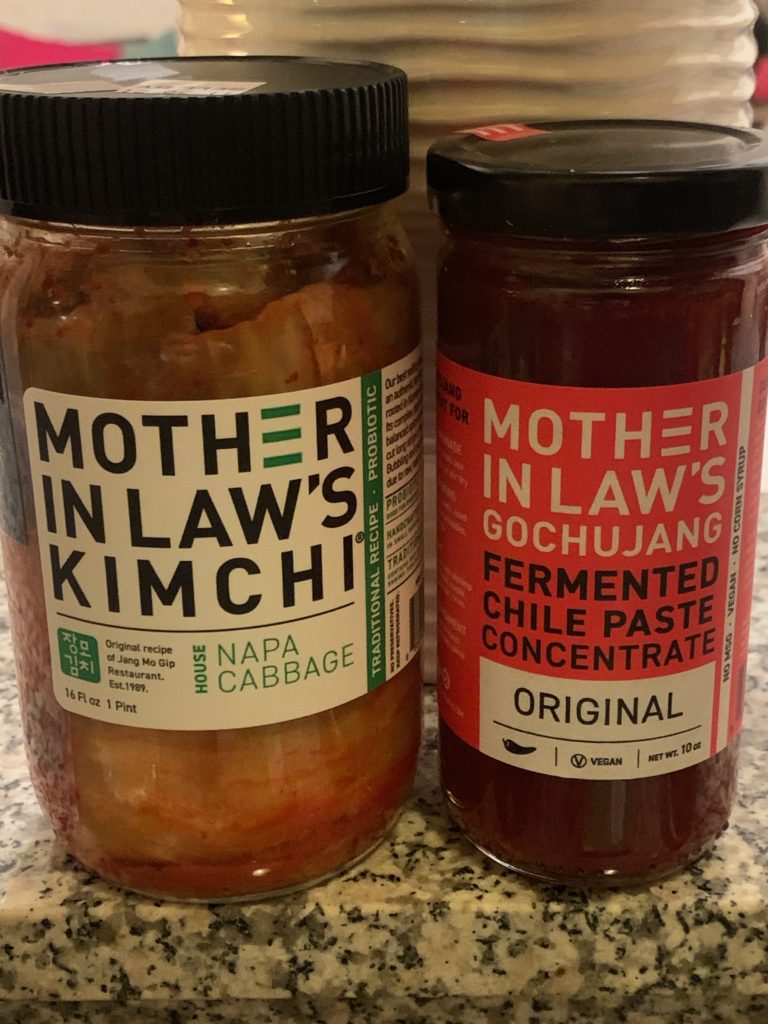 This dish comes together quickly but is packed with flavor from the kimchi and gochujang paste. I used cod for the fish and sliced baby bellas for the mushrooms. Next time I will chop the kimchi before adding to the pot. The pieces of cabbage were a bit too large. I served the stew over rice and with a fried egg on top.
Tim has a lower tolerance for spice than I have but he really enjoyed it! I'm having the leftovers for lunch with some ramen noodles added.
---
Rick A. Martinez, NYT Cooking
INGREDIENTS
3Â tablespoons vegetable oil
¼ pound shiitake, cremini or button mushrooms, halved
3Â medium shallots, chopped (about 1 cup)
1Â (4-inch) piece fresh ginger, peeled and finely chopped (about 1/4 cup)
5Â garlic cloves, thinly sliced (about 1/4 cup)
2Â tablespoons gochujang (Korean hot-pepper paste) or white or yellow miso paste
2Â cups kimchi with its juices
3Â tablespoons soy sauce
1Â pound boneless, skinless cod fillet (or pollock, halibut or other firm whitefish fillet), cut into 1 1/2-inch pieces
 Sliced scallions and toasted sesame seeds, for serving
PREPARATION
Heat oil in a large saucepan over medium-high. Cook mushrooms, stirring occasionally, until lightly browned, 4 to 6 minutes. Add shallots, ginger and garlic and cook, stirring occasionally, until just beginning to brown, 4 to 6 minutes.
Stir in gochujang and cook until fragrant and brick red, 1 minute. Stir in kimchi, scraping up any gochujang from the bottom of the pan, and cook until most of the liquid has evaporated, about 5 minutes.
Add soy sauce and 5 cups water and bring to a boil. Cover, reduce heat to low and simmer until kimchi is tender, about 20 minutes. Stir in fish, cover, remove from heat and let sit until cooked through, about 5 minutes. (The residual heat from the stew will gently cook the fish.)
Divide stew among bowls and top with scallions and sesame seeds.

Yield: Serves 4
Time: 40 minutes
---
---