Black Bean & Goat Cheese Quesadillas with Guacamole
Here is a delicious and easy vegetarian meal! Simply cook black beans with onion and some spices. Mash the black beans and spread on tortillas. Top with crumbled goat cheese. So simple but surprisingly delicious.
Top with a simple guacamole made with avocado, lime juice, and cilantro.
Sure to please both adults and kids!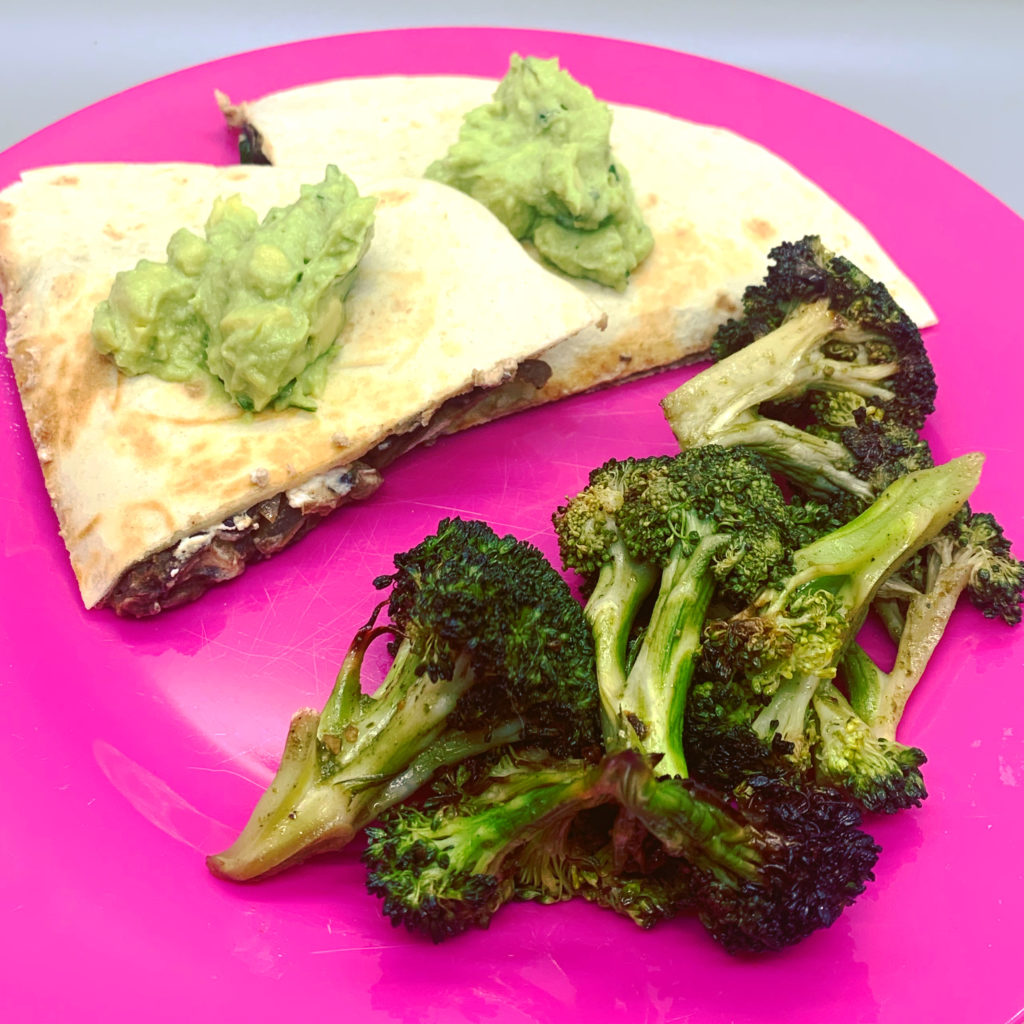 ---
Black Bean & Goat Cheese Quesadillas with Guacamole
Fine Cooking
3 Tbs. olive oil
1 small yellow onion, finely chopped
15-1/2-oz. can black beans, rinsed and drained
1 tsp. ground cumin
1 tsp. chili powder
Kosher salt and freshly ground black pepper
1/2 cup chopped fresh cilantro
1 large or 2 small ripe avocados, pitted and peeled
2 tsp. fresh lime juice; more to taste
3 to 4 oz. fresh goat cheese, crumbled
6 flour tortillas, 8 inches across
In a medium skillet, heat 2 Tbs. of the oil over medium heat until hot but not smoking. Add the onion and sauté, stirring, until it softens, about 5 minutes. Add the beans, cumin, chili powder, and 1/2 cup water and cook, stirring occasionally, until almost all the water has evaporated, 5 to 7 minutes. Take the pan off the heat. With the back of a fork, break up the beans to make a chunky mash. Stir in half of the cilantro and season with salt and pepper.
In a small bowl, combine the avocado, lime juice, and remaining cilantro and use a potato masher or the back of a fork to mash into a chunky paste. Season to taste with salt and pepper; add more lime juice if you like.
Spread the black bean mixture evenly over three of the tortillas. Scatter the goat cheese over the beans and cover with the remaining tortillas. Lightly coat a large heavy skillet or griddle with oil (about 1 tsp.) and heat over medium heat. Set one of the quesadillas in the skillet and cook until lightly browned, about 2 minutes. Flip the quesadilla over and brown on the other side for another 1-1/2 minutes. Remove from the pan, cook the remaining quesadillas (add more oil to the pan each time) and cut each into eight wedges. Serve each wedge with a dollop of the guacamole.
---
---