Kid-Friendly Broccoli Pasta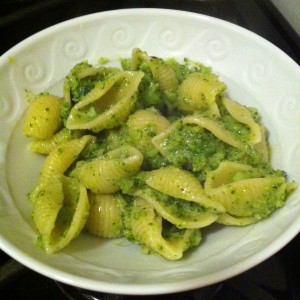 Here is a super simple kid-friendly pasta dish (Charlotte approved!). Â Boil broccoli along with the pasta and then toss with oil and cheese. Â Super fast, very flavorful, and most important a meal that Charlotte, Tim, and I all enjoyed together!
Leaving-Home Penne Rigate with Broccoli
Epicurious
Salt
1 1/2 pounds broccoli, washed, stems discarded, cut into bite-size florets
1 pound penne rigate
3/4 cup extra-virgin olive oil
2/3 cup finely grated pecorino cheese, plus extra for serving
Freshly ground pepper
Bring a big pot of water to a boil. Add a good handful of salt (about 1/4 cup), enough that you can taste it. Set a fine strainer in the sink.
When the water comes to a boil, add the broccoli and wait until the water returns to a boil. Add the pasta and set the timer to the number of minutes recommended on the box. When the timer rings, drain the penne and broccoli in the colander, then dump them into a large serving bowl. Add the olive oil and mix well with a wooden spoon so that the pasta is coated and the bits of broccoli are well distributed throughout. Add the cheese and stir well until you have a nice, green-speckled sauce. Sprinkle with a little extra cheese, and add some pepper.
---
---