Weeknight Chicken: Chicken Stir Fry Wraps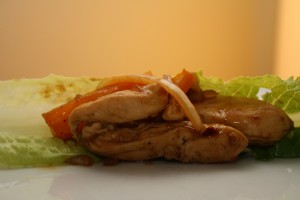 Here is a super easy and flavorful weeknight meal with an Asian flair!
Just a few comments…I used orange bell peppers because they looked much fresher than the red bell peppers in the store.  I also used chicken breast tenderloins and then sliced those in half.  I probably could have even sliced them in thirds.  Lastly, I thought the dish could use a touch more soy sauce so I would suggest five tablespoons of soy sauce rather than the three called for in the recipe.
Our lettuce wraps were a bit more like tacos because the store was out of Boston lettuce and we had to use romaine.  But even with the oddly shaped lettuce wraps, they were super tasty!
Chicken Stir Fry Wraps
Everyday Food
1 1/2 pounds boneless, skinless chicken breasts, halved horizontally and thinly sliced
Coarse salt and ground pepper
2 tablespoons olive oil
1 large onion, halved and thinly sliced
1 large red bell pepper, ribs and seeds removed, thinly sliced
3 cloves garlic, minced
1 1/2 teaspoons grated peeled fresh ginger
1/4 to 1/2 teaspoon red-pepper flakes
3 tablespoons soy sauce
3 tablespoons rice vinegar
1 1/2 teaspoons cornstarch, mixed with 1 tablespoon water
12 to 16 Boston lettuce leaves (about 2 heads)
Season chicken with salt and pepper. In a large nonstick skillet, heat 1 tablespoon oil over high heat. Add half the chicken; cook, stirring constantly, until opaque throughout, 2 to 4 minutes. Transfer to a plate. Repeat with remaining chicken.
Add remaining tablespoon oil to pan, along with the onion and bell pepper. Cook, stirring constantly, until onion is tender and golden, about 4 minutes (reduce heat if browning too quickly).
Reduce heat to medium; add garlic, ginger, and red-pepper flakes; cook, stirring, until fragrant, 30 to 60 seconds.
Stir in soy sauce, vinegar, and cornstarch mixture; remove from heat. Add chicken and any accumulated juices; toss to coat. Serve in lettuce cups
---
---