Chicken, Sausage & Peppers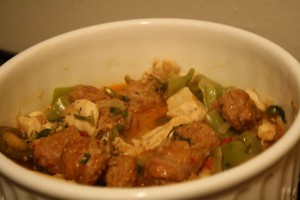 First of all, this recipe is MUCH more delicious than the photo makes it appear.  The dish is basically a quick version of traditional  sausage and peppers which I love.
The pickled cherry peppers and their juice add a great flavor; as did the hot Italian sausage I used.
If you wanted to lighten the dish up more, you could use turkey sausage rather than pork sausage.
Serve with some crusty bread or some sliced polenta for an easy weeknight meal!
Chicken, Sausage & Peppers
Food Network Magazine
•    2 tablespoons unsalted butter
•    3/4 pound sweet or hot Italian sausage, cut into chunks
•    3/4 pound skinless, boneless chicken breasts, cut into chunks
•    Kosher salt and freshly ground pepper
•    1 tablespoon all-purpose flour
•    1 small onion, chopped
•    2 Italian green frying peppers, cut into 1-inch pieces
•    3 cloves garlic, roughly chopped
•    1/2 cup dry white wine
•    3/4 cup low-sodium chicken broth
•    1/4 cup roughly chopped fresh parsley
•    2 jarred pickled cherry peppers, chopped, plus 2 tablespoons liquid from the jar
Heat 1 tablespoon butter in a large skillet over medium-high heat. Cook the sausage until golden, about 2 minutes. Season the chicken with salt and pepper, then toss with the flour in a bowl; add to the skillet and cook until browned but not cooked through, about 3 minutes.
Add the onion, peppers, garlic, 1/2 teaspoon salt, and pepper to taste and cook 3 minutes. Add the wine, scraping up any browned bits; bring to a boil and cook until slightly reduced, about 1 minute. Add the broth and bring to a gentle simmer. Cover and cook until the sausage and chicken are cooked through, about 5 minutes.
Transfer the chicken, sausage and vegetables to a platter with a slotted spoon. Increase the heat to high and stir the parsley and cherry peppers and their liquid into the skillet; boil until reduced by one-third, 2 to 3 minutes. Remove from the heat and stir in the remaining 1 tablespoon butter. Pour the sauce over the chicken mixture.
---
---