Roasted Chicken Provençal
Oh how I'd love to be back in Provence! While I love all French food, the flavors of Provence and the South of France are among my favorite.
This dish is quite easy and requires little to no chopping and packs in a lot of flavor. The sauce has an amazing lemony sweetness thanks to the lemon, shallots, and garlic. Confession, I ate some of the sauce with a spoon.
My roasting pan only comfortably fit 6 thighs so that's all I used. But I did use all of the garlic, shallots, lemon, and vermouth stated. Definitely baste the chicken half way through the cooking as noted. The skin of my chicken didn't crispy up as described in the recipe so put it under the broiler for just a couple of minutes.
You might want some good bread on hand (or a spoon in my case) to enjoy the sauce!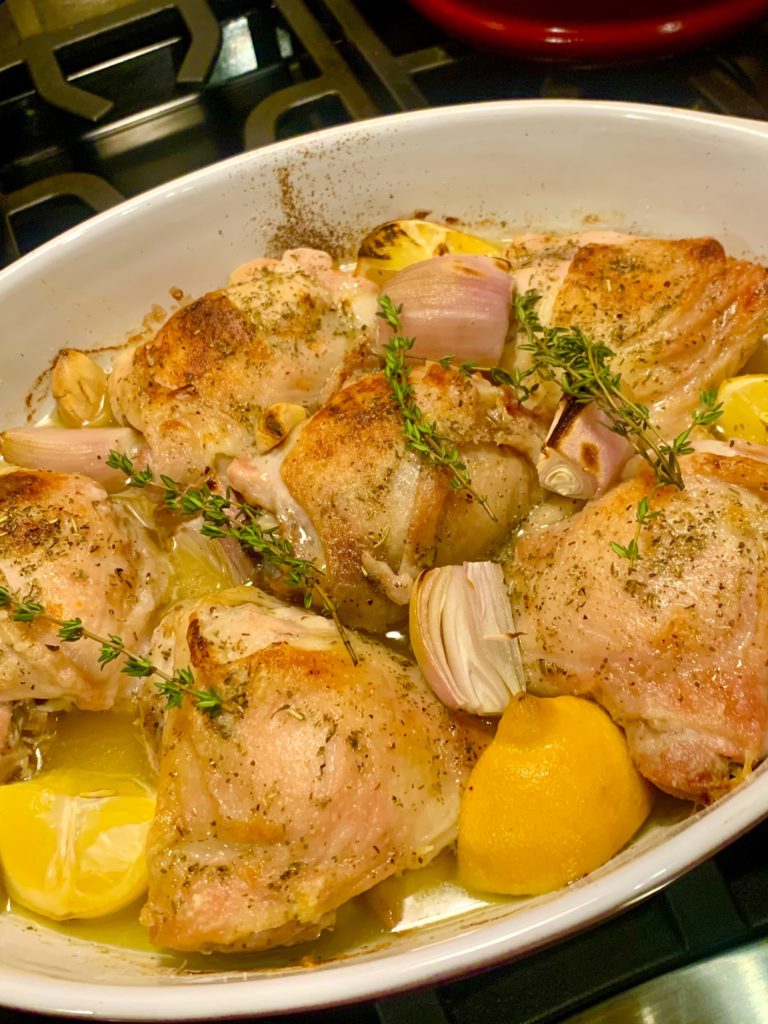 ---
Roasted Chicken Provençal
Recipe from Steven Stolman
Adapted by Sam Sifton, NYT Cooking
4 chicken legs or 8 bone-in, skin-on chicken thighs
2 teaspoons kosher salt
1 teaspoon freshly ground black pepper
½ to ¾ cup all-purpose flour
3 tablespoons olive oil
2 tablespoons herbes de Provence
1 lemon, quartered
8 to 10 cloves garlic, peeled
4 to 6 medium-size shallots, peeled and halved
â…" cup dry vermouth
4 sprigs of thyme, for serving

Heat oven to 400 degrees. Season the chicken with salt and pepper. Put the flour in a shallow pan, and lightly dredge the chicken in it, shaking the pieces to remove excess flour.
Swirl the oil in a large roasting pan, and place the floured chicken in it. Season the chicken with the herbes de Provence. Arrange the lemon, garlic cloves and shallots around the chicken, then add the vermouth to the pan.
Put the pan in the oven, and roast for 25 to 30 minutes, then baste it with the pan juices. Continue roasting for another 25 to 30 minutes, or until the chicken is very crisp and the meat cooked through.
Serve in the pan or on a warmed platter, garnished with the thyme.
---
---