Meatless Monday: Penne with Sun-dried Tomato Pesto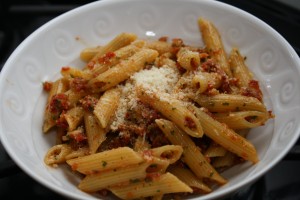 As my due date approaches, I am definitely slowing down a bit so I am on the hunt for some easy weeknight meals.  Tim and I both love pesto of any sort so when I saw this super simple Giada de Laurentiis recipe the other day I decided it was perfect for "Meatless Monday".  This is a great recipe because, other than the fresh basil, you could easily have everything in your pantry.
The pesto was delicious — so packed with flavor it is hard to believe that there are only 5 ingredients in it.  Tim and I gobbled it up!
This recipe is also great for weeknight entertaining.  The pesto only takes a couple of minutes to prep.  As the pasta water boils and penne cooks, prep a green salad and an antipasto platter with some olives, Italian meats, and cheeses.  A very easy but tasty and elegant dinner for weeknight dinner guests.

Penne with Sun-dried Tomato Pesto
Giada de Laurentiis
12 ounces penne pasta
1 (8.5-ounce) jar sun-dried tomatoes packed in olive oil
2 garlic cloves
Salt and freshly ground black pepper
1 cup (packed) fresh basil leaves
1/2 cup freshly grated Parmesan
Cook the pasta in a large pot of boiling salted water until tender but still firm to the bite, stirring occasionally, about 8 minutes. Drain, reserving 1 cup of the cooking liquid.
Meanwhile, blend the sun-dried tomatoes and their oil, garlic, salt and pepper, to taste, and basil in a food processor and blend until the tomatoes are finely chopped. Transfer the tomato mixture to a large bowl. Stir in the Parmesan.
Add the pasta to the pesto and toss to coat, adding enough reserved cooking liquid to moisten. Season the pasta, to taste, with salt and pepper and serve.
Serves 4.
---
---