End of Summer Meatless Monday: Ratatouille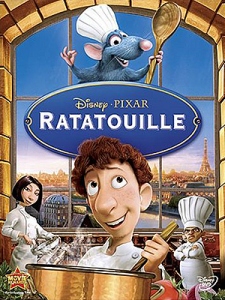 Here is a delicious way to use end of summer produce: ratatouille!  In addition to being a super cute Pixar movie, ratatouille is a stewed vegetable dish with eggplant, zucchini, red pepper, tomatoes, garlic, and onions.  When I was a vegetarian, my mom would make me a delicious ratatouille.  I didn't have her recipe but saw this one in Real Simple and it looked quick enough for a weeknight dinner.
I followed the recipe with a couple of minor changes.  I used a red onion for a little extra flavor.  And unfortunately I was out of fresh basil so I used a 1/2 teaspoon of herbs de Provence.
I served the ratatouille with quinoa for a healthy meatless meal!  Tim and I both enjoyed the dinner and I don't even think Tim missed the meat.
Ratatouille
Real Simple
•    3 tablespoons olive oil
•    1 onion, thinly sliced
•    4 garlic cloves, peeled and sliced
•    1 small bay leaf
•    1 small eggplant, cut into 1/2-inch pieces (about 3 cups)
•    1 small zucchini, halved lengthwise and cut into thin slices
•    1 red bell pepper, cut into slivers
•    4 plum tomatoes, coarsely chopped (about 1 1/4 cups)
•    1 teaspoon kosher salt
•    1/2 cup shredded fresh basil leaves
•    freshly ground black pepper
Over medium-low heat, add the oil to a large skillet with the onion, garlic, and bay leaf, stirring occasionally, until the onion has softened.
Add the eggplant and cook, stirring occasionally, for 8 minutes or until the eggplant has softened. Stir in the zucchini, red bell pepper, tomatoes, and salt, and cook over medium heat, stirring occasionally, for 5 to 7 minutes or until the vegetables are tender. Stir in the basil and few grinds of pepper to taste.
---
---