Toddler Super Food: Quinoa with Black Beans and Corn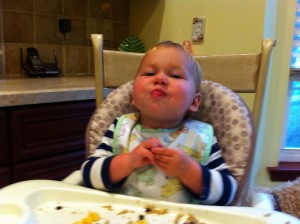 Trying to ignore the loud rain hammering the house and the tornado warnings for the county south of us to write this blog post!
As we prepped for Hurricane Irene and the prospect of losing power, I decided to make Charlotte some food that might be ok without refrigeration.  Over the past couple of weeks, she's tried and loved both black beans and corn so I decided to make a quinoa dish with both of those ingredients.
In case you are not familiar with quinoa, I think of it as a nuttier couscous.  Quinoa is incredibly high in protein and fiber, but is also gluten-free so it is easily digestible.
Charlotte loved the quinoa!  She gobbled it up and exclaimed "YUM" after each bite.  So happy she loved such a delicious, protein packed meal!
 Quinoa with Black Beans & Corn
1 teaspoon olive oil
1/2 yellow onion, chopped
1 cloves garlic, peeled and chopped
1 cup uncooked quinoa
2 cups vegetable or chicken broth
1 cup corn kernels
1 (15 ounce) cans black beans, rinsed and drained
Heat the oil in a medium saucepan over medium heat. Stir in the onion and garlic, and saute until lightly browned.
Mix quinoa into the saucepan and cover with broth. Bring the mixture to a boil. Cover, reduce heat, and simmer 20 minutes.
Stir corn into the saucepan (if frozen), and continue to simmer about 5 minutes until heated through.  Mix in the black beans and corn (if not frozen) and serve.
---
---