Lamb Chops with Pistachio Tapenade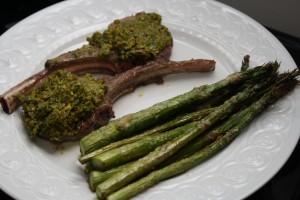 I have been cooking but have been finding it hard to actually find the time to write posts. Fresh Direct has been delivering our groceries. And, Charlotte generally lets me cook but she doesn't allow me and Tim to eat at the same time. We take turns holding her while the other eats. I think she just doesn't want to miss out on the action!
I made this recipe a couple of weeks ago and it was absolutely delicious! I found the recipe on Smitten Kitchen, a wonderful cooking blog I encourage you to check out. I can only aspire to have photos as gorgeous as Deb's! She had a baby in the fall and is also writing a baby food blog.
Tim and I both love lamb chops and this was a delicious way to prepare them. The pistachio tapenade is amazing — it really is more of an olive tapenade but the pistachios lend a nice flavor. I forgot to toast the nuts but it was still great.
I served the lamb chops with roasted asparagus. We loved the meal and it is quick to prepare but elegant enough for guests!
Lamb Chops with Pistachio Tapenade
Anne Burrell (via Smitten Kitchen)
1/2 cup pistachios, shelled and toasted
1/2 cup pitted green (what I used) or Cerignola (what Burrell recommends) olives
2 tablespoons capers
1 clove garlic, smashed
1 tablespoon freshly chopped oregano leaves (nixed because mine had gone bad)
2 tablespoons freshly chopped parsley leaves
Extra-virgin olive oil
1 lemon, zested
1 (8-rib) rack of lamb or 6 lamb chops
Salt
Freshly ground black pepper*
To make the pistachio tapenade: In a food processor combine the pistachios, olives, capers, garlic, herbs and puree. While the machine is running, slowly drizzle in olive oil until the mixture becomes a paste. Add the zest and pulse 1 more time, drizzling in more oil if necessary. Reserve until ready to use.
Cook your chops: Season your six lamb chops generously on either side with salt and freshly ground black pepper. Allow them to sit for 10 to 15 minutes before cooking.
Preheat oven to 425 degrees F. Coat a large saute pan generously with olive oil and bring to medium-high heat. When the oil is hot but not smoking, add the lamb chops and cook for about 2 minutes on each side to brown. If the pan begins to smoke, lower the heat. The chops should be beautifully caramelized on both sides. Remove the chops to a sheet pan and schmear generously with the pistachio tapenade. Place in preheated oven and cook another 4 to 5 minutes for medium rare. Remove chops from oven and let rest for at least 5 minutes before serving.
---
---