Cooking with Baby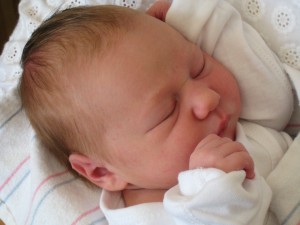 Our baby girl, Charlotte, arrived on May 12th! Tim and I are adjusting to parenthood and are totally enamored by our little one. Angus seems to be adjusting well which is a great relief.
Even with the myriad of options in NYC, there is only so much takeout I can eat so I have started cooking dinner again. So far, I've made super simple meals that haven't required recipes. Mostly I have cooked some sort of protein and then made a big salad and/or roasted some veggies. Luckily I can order good quality groceries from Fresh Direct which makes it very easy to have a well stocked kitchen.
Here are some ideas for you when you want to cook but really don't have the time or energy to find and follow a recipe:
Grilled skirt steak, roasted asparagus, and a salad
I love skirt steak and it is so quick to cook up on a grill pan. Just season with some kosher salt and pepper or your favorite steak seasoning. I like Emeril's Steak Rub and McCormick's Spicy Montreal Steak Seasoning. I roasted some local asparagus and made a simple salad with some lettuce, tomatoes, feta, and olives.
Grilled chicken sausages and a salad
There are so many delicious varieties of chicken and turkey sausages. I just cooked a package of sausages on a grill pan and made a big salad. If you have onion and/or peppers on hand, you can saute those as a side.
Lamb burgers and a Greek salad
I ordered some Pat La Freida lamb and provolone burgers from Fresh Direct. Pat La Freida — which is located very close to where we live — provides meat and burgers to some great NYC restaurants like the Minetta Tavern. I grilled the burgers on a grill pan and made a big Greek-style salad with romaine, tomatoes, olives, and feta. If you want to make the burgers extra special, top with store-bought hummus or tsatsiki.
Hopefully I'll have some more guest blog posts coming and I'll start posting more.
---
---