Cooking with Baby: Five Spice Tilapia with Citrus Ponzu Sauce
by Weeknight Gourmet Guest Blogger Happy Farrow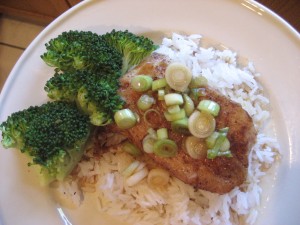 As foodie who doesn't go out to dinner nearly as much as I did before becoming a parent (sorry Jess and Tim!), I'm always looking for recipes that are simple and delicious. Â This five spice tilapia recipe is one of my favorites.
The fish seasoning is flavorful, but not overpowering, and the citrus ponzu sauce makes boring white rice and steamed broccoli taste incredible. Â I usually feel the need to make a few adjustments to Cooking Light recipes (e.g., adding twice the amount of cheese), but this one is perfect as is.
Five Spice Tilapia with Citrus Ponzu Sauce
Cooking Light, May 2006
2 tablespoons thinly sliced green onions
2 tablespoons orange juice
1 tablespoon lemon juice
1 tablespoon low-sodium soy sauce
1 teaspoon brown sugar
2 teaspoons rice wine vinegar
1/4 teaspoon bottled ground fresh ginger (such as Spice World)
1/2 teaspoon five-spice powder
1/4 teaspoon salt
1/4 teaspoon ground red pepper
4 (6-ounce) tilapia fillets
2 teaspoons canola oil
Combine green onions, juices, soy sauce, brown sugar, vinegar, and ginger in a small bowl.
Combine five-spice powder, salt, and pepper. Sprinkle both sides of fish evenly with spice mixture.
Heat oil in a large nonstick skillet over medium-high heat. Add fish to pan; cook 2 minutes on each side or until fish flakes easily when tested with a fork or until desired degree of doneness. Remove from skillet, and serve with sauce.
Yield:  4 servings (serving size: 1 fillet and 1 tablespoon sauce)
CALORIES 217 (27% from fat); FAT 6.6g (sat 1.8g,mono 1.9g,poly 2.3g); PROTEIN 37g; CHOLESTEROL 125mg; CALCIUM 8mg; SODIUM 332mg; FIBER 0.2g; IRON 1mg; CARBOHYDRATE 3.1g
Happy is freelance designer (http://www.happyfarrow.com/index.html) and lives in Boston with her husband James and daughter Cecily.
---
---