Steakhouse Dinner: Filet Mignon & Creamed Spinach
No Valentine's Day dinner out for us (like everyone else!) this year. I decided to make my love a steakhouse dinner at home.
I ordered some beautiful filet mignons from Snake River Farms. They have really amazing Wagyu beef and Kurobuta pork.
I've been following Snake River Farms steakhouse preparation for years and the results are delicious.
Season: Heat a heavy skillet (preferably cast iron skillet) over medium-high heat until hot. Add a light coat of vegetable oil to the skillet. Season steaks with salt and pepper.
Sear: Place steaks in hot skillet and sear for 2 minutes per side. If a steak sticks to the skillet, it's not ready to turn. Wait until it releases on its own.
Cook: Place skillet in a 350°F degree oven for 10-12 minutes for medium. Turn once halfway through the cooking time. Remove from oven when preferred internal temperature is reached.
Rest: Remove steaks from a skillet and cover loosely with aluminum foil. Let stand 5 to 10 minutes. The steaks will continue to cook and the temperature will rise about 5 degrees.
As the steak rest I like to add a dollops of butter on top and a bit more coarse salt.
But what is a good steakhouse steak without a signature steakhouse side dish – creamed spinach?! I made this Pioneer Woman recipe on Sunday and it was delicious and so easy! I followed the recipe exactly (though I halved it) and it was a perfect accompaniment to our delicious steaks!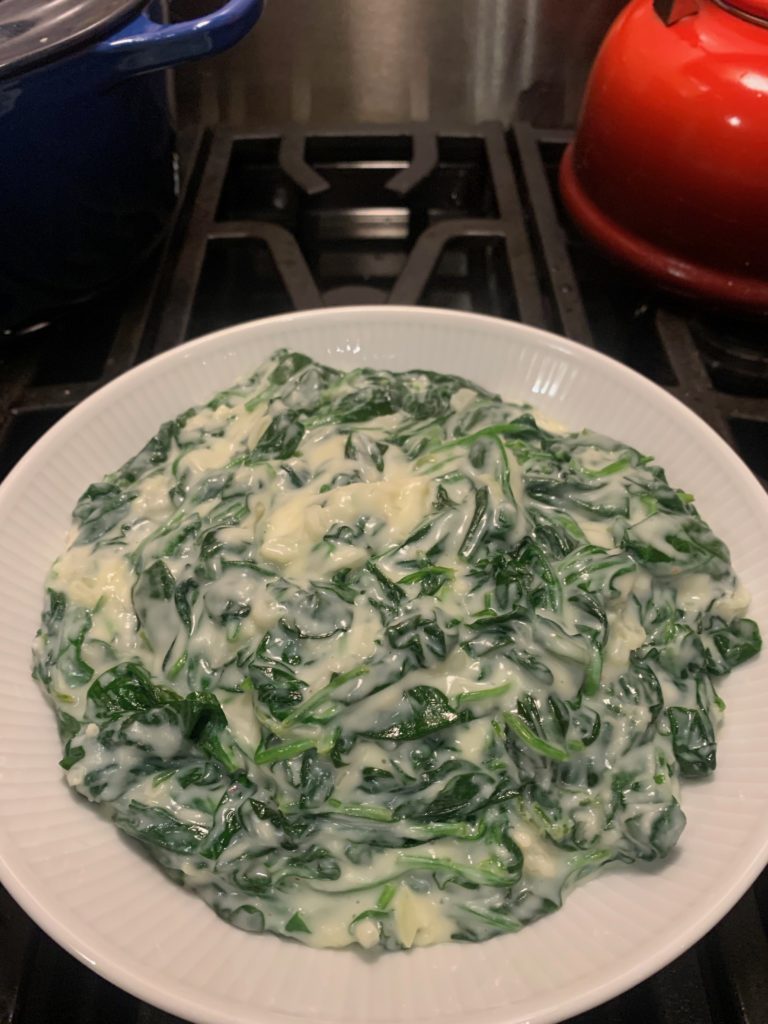 ---
1Â stick butter
8 tbsp. flour
1/2Â whole medium onion, finely diced
3Â cloves garlic, finely minced
2 cups milk
Salt and pepper, to taste
1Â pinch ground nutmeg
3 tbsp. butter
24 oz. weight baby spinach
Melt 1 stick of butter in a pot. Sprinkle in flour and whisk together. Cook over medium heat for five minutes or until light golden brown. Throw in onion and garlic and stir together, cooking for another minute. Pour in milk, whisking constantly, and cook for another five minutes while you cook the spinach.
To cook spinach, melt 3 tablespoons butter in a separate pot. Add spinach in increments until all incorporated, and cook until wilted but not soggy, about 4 to 5 minutes.
Season the cream sauce with salt, pepper, and nutmeg. Add spinach to the cream sauce, stirring gently to combine. Serve immediately.
---
---