Soup Season! Chicken & Spaghetti Soup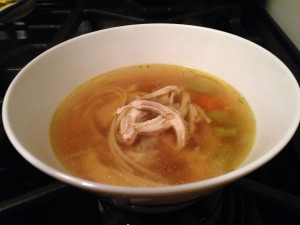 The only food Charlotte loves more than chicken soup is spaghetti.  And by spaghetti I mean spaghetti.  She is very particular when it comes to pasta shapes (unlike her mother).  So when I saw this chicken and spaghetti soup recipe, I knew I had to make it for my girl.
This is an almost-homemade soup.  Sautee some carrots, celery, and onions.  Add broth (I used stock) and water.  Bring it to a boil and add the spaghetti.  Once the pasta is cooked, you add shredded chicken.  I used white meat from a store-bought rotisserie chicken.  Top with some dill.
Super easy and tasty!  Charlotte gobbled it up!
Chicken & Spaghetti Soup
Real Simple
2 tablespoons olive oil
2 carrots, chopped
1 small onion, chopped
1 stalk celery, chopped
4 cups low-sodium chicken broth
kosher salt and black pepper
4 ounces spaghetti (1/4 box), broken
2 cups shredded cooked chicken
2 tablespoons fresh dill
Heat the oil in a large saucepan over medium-high heat. Add the carrots, onion, and celery and cook until softened, 3 to 4 minutes.
Add the chicken broth and 4 cups water to the pan, season with ¾ teaspoon salt and ¼ teaspoon pepper, and bring to a boil. Add the spaghetti, reduce heat, and simmer until tender, 8 to 10 minutes.
Stir in the chicken. Sprinkle with dill and additional pepper.
---
---