Slow-Cooker Cajun Stew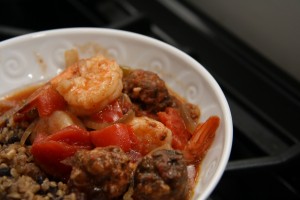 Here's a great slow cooker recipe — Cajun stew with andouille sausage and shrimp.  The dish has great flavor and a mild heat from the sausage and cayenne pepper.
Like my favorite slow cooker recipes, this one requires little prep work — only a bit of chopping.
A few notes: I used fresh andouille but I'd recommend smoked.  It will be easier to slice and will stay together through the cooking process better than fresh.  Serve the stew with some rice or quinoa as a side.  Don't forget the okra like I did (oops!).  The dish was still tasty without the okra but I'm sure it would have been a nice add.
Enjoy!
Slow-Cooker Cajun Stew
Everyday Food

⅔ pound andouille or kielbasa, sliced into ½-inch-thick rounds
1 red onion, sliced into wedges
2 garlic cloves, minced
2 celery stalks, coarsely chopped
1 red or green bell pepper, coarsely chopped
2 tablespoons all-purpose flour
1 can (28 ounces) diced tomatoes
1/2 cup water
¼ teaspoon cayenne pepper
Coarse salt
½ pound large shrimp, peeled and deveined
2 cups frozen sliced okra, thawed
Cooked rice for serving
In a 5- to 6-quart slow cooker, place sausage, onion, garlic, celery and bell pepper. Sprinkle with flour and toss to coat. Add tomatoes and their liquid, ½ cup water and cayenne; season with salt.
Cover and cook until vegetables are tender, 3 ½ hours on high or 7 hours on low. Add shrimp and okra, then cover and cook until shrimp are opaque throughout, 30 minutes on high or 1 hour on low.
To serve, scoop spoonful of rice into individual serving bowls and place stew on top.
Serves 4.
---
---