Sauteed Broccolini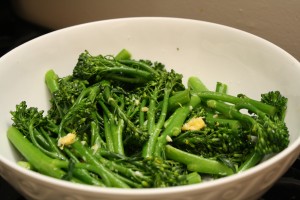 I have posted this recipe before but it was part of a larger post so I decided it deserves its very own post.  We had this quick and healthy side with our Sole Meuniere last night.
Broccolini is sweeter than regular broccoli and only needs to be cooked for a very brief amount of time for best results.  This recipe has great fresh flavor from the lemon zest and juice.
Sauteed Broccolini
Barefoot Contessa
1 bunch broccolini
Kosher salt
2 tablespoons unsalted butter
1/2 lemon, zested
1 teaspoon minced garlic
1 tablespoon lemon juice
1/4 teaspoon freshly ground black pepper
Blanch the broccolini in a large pot of boiling salted water for 2 minutes. Drain immediately and immerse in a bowl of ice water.
Melt the butter in a large saute pan. Add the lemon zest and garlic and stir. Drain the broccolini and add it to the garlic mixture and heat for 2 minutes. Add the lemon juice, 1/2 teaspoon salt and the pepper, and toss well before serving.
---
---