Chicken Milanese with Arugula Salad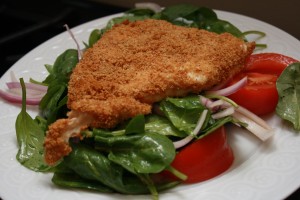 I have a backlog of a few posts.  This dish was actually one of the first things I made when I got back into the kitchen.
I saw this recipe in the new Everyday Food cookbook decided to make it because it reminded me of the Chicken Milanese Salad at Fresco to Go.  It was my go-to lunch when I was working at McKinsey and happened to be in town.
A few tips on the dish.  Make sure to really pound the chicken breasts.  If you don't have a meat mallet, you can use a canned good from your pantry.  I've used many cans of tomatoes to pound meat.  Just be sure to put the meat between plastic wrap before you pound it.
The only change I would make is to add some parmesan cheese to the breadcrumb mixture.  Also, make sure to season the breadcrumb mixture well with salt and pepper.
The dish didn't quite live up to Fresco's salad but it was quite tasty.  We had some leftover chicken which I had the next day cold for lunch.  Yummy!
Chicken Milanese with Arugula Salad
Everyday Food
1 1/4 cups plain dried breadcrumbs
1/4 cup plus 2 tablespoons olive oil
1/3 cup all-purpose flour
2 large eggs, lightly beaten
Coarse salt and ground pepper
4 boneless, skinless chicken breast halves (about 6 ounces each)
2 tablespoons fresh lemon juice, plus lemon wedges, for serving
5 ounces baby arugula
1 small red onion, thinly sliced
Preheat oven to 425 degrees. On a rimmed baking sheet, toss breadcrumbs and oil until well combined; spread on sheet. Cook, tossing once, until golden brown, 6 to 8 minutes. Transfer to a medium bowl. Place flour and eggs in separate bowls; season with salt and pepper. Place a rack on another rimmed baking sheet.
One at a time, place chicken breasts between two large pieces of plastic wrap. Using a meat mallet or bottom of a small heavy pan, pound until 1/2 inch thick. Coat chicken on both sides with flour (shaking off excess), then dip in eggs (allowing excess to drip off); dredge in breadcrumbs, pressing firmly to adhere.
Bake chicken on rack, without turning, until opaque throughout, 10 to 15 minutes.
In a bowl, whisk together remaining 2 tablespoons oil and lemon juice; season with salt and pepper. Add arugula and onion; toss. Top chicken with salad; serve with lemon wedges on the side.
---
---