A Taste of India: Quick Chicken Vindaloo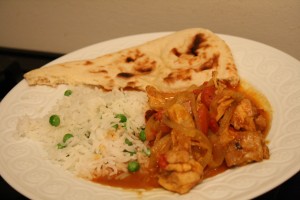 Tim loves Indian food, but I never cook it for him.  It's not that I dislike Indian food.  It just doesn't come to mind when I'm contemplating what to cook.
As a treat for Tim, I decided to try this quick chicken vindaloo — a spicy tomato-based dish — from Fine Cooking.  It was super easy to make and packed with flavor!  I used diced tomatoes with chiles for a little added punch.
I served the vindaloo with frozen naan from Trader Joe's and basmati rice with peas.  I will definitely make this again!  Scored some major brownie points with Tim.  And, I really enjoyed the meal!
Quick Chicken Vindaloo
Fine Cooking
1-1/2 Tbs. curry powder
2 tsp. hot paprika
Freshly ground black pepper
1-1/2 lb. boneless, skinless chicken thighs, trimmed and cut into 3/4- to 1-inch pieces
8 medium cloves garlic, minced
4 Tbs. red wine vinegar
Kosher salt
2 Tbs. canola oil
1 medium yellow onion, thinly sliced
1 Tbs. grated fresh ginger
1 (14-1/2-oz). can diced tomatoes, drained, 1/3 cup juice reserved
3 Tbs. chopped fresh cilantro
In a small bowl, stir the curry powder, paprika, and 3/4 tsp. black pepper. Put the chicken in a medium nonreactive bowl, sprinkle with 1 Tbs. of the curry powder mixture, about half of the garlic, 2 Tbs. of the vinegar, and 3/4 tsp. salt; toss to coat. Set aside at room temperature.
Heat the oil in a 10- to 11-inch straight-sided sauté pan over high heat until shimmering. Add the onion and ¼ tsp. salt and cook, stirring occasionally with a wooden spoon, until it softens and begins to brown around the edges, 4 to 5 minutes. Reduce the heat to medium high, add the ginger, the remaining garlic, and the remaining curry powder mixture and cook, stirring, until fragrant and well combined, about 45 seconds.
Add the tomatoes and mix to combine, scraping the bottom of the pan with the spoon. Stir in the chicken, reserved tomato juice, remaining 2 Tbs. vinegar, and 2/3 cup water. Bring to a boil, cover partially, reduce the heat to medium, and simmer, stirring occasionally, until the chicken is tender and cooked through, 15 to 20 minutes. Season to taste with salt and pepper. Serve sprinkled with the cilantro.
---
---