Barefoot Contessa's Seared Scallops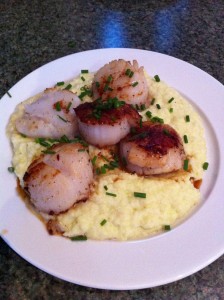 I have been cooking but, as you may have noticed, I have not been blogging.  At some point in the fall, blogging started to feel like a chore so I pulled back and just cooked without the pressure of having to document it all.  The downside of not blogging is not having a record of all the great recipes I made.  (I REALLY wish I could remember which baked French Toast recipe I made on Christmas morning.)
But I am hoping I will have a lot more time and energy to cook and blog over the coming months since I am now only working part time.
Last night I made this delicious scallop recipe from, my favorite, the Barefoot Contessa.  The scallops were quite simply prepared and served on top of a puree made from Yukon Gold potatoes, leeks, and celery root.  Note that the recipe calls for grapeseed oil.  It has a higher smoke point than the oils you likely have in your pantry which is important when you are searing at a high temperature.  I followed the instructions on how long to cook the scallops and they turned out perfectly.
The potato-celery root puree was super simple but delicious.  It's a great and lighter alternative to regular mashed potatoes.  I used a combo of milk and heavy cream.
If you like scallops, I definitely recommend this recipe.  And, the puree may become a new side dish staple.
Seared Scallops and Potato-Celery Root Puree
Barefoot Contessa Foolproof, Ina Garten
5 Tbsp. unsalted butter
6 cups chopped leeks, white and light green parts (4 leeks)
4 cups (1½ pounds) Yukon Gold potatoes, peeled and diced into ¾" cubes
4 cups (2 pounds) celery root, peeled and diced into ¾" cubes
3 cups heavy cream
Kosher salt
Freshly ground black pepper
24 to 26 large "dry" sea scallops
4 Tbsp. grapeseed oil, divided
Basil-infused olive oil, for serving (optional)
Minced fresh chives, for serving
Active time: 35 minutes
Total time: 1 hour
Serves 6
Melt butter over medium heat in a large (8″ to 10″) saucepan or Dutch oven. Rinse leeks well in a colander, spin dry in a salad spinner, and add to pot. Sauté over medium-low heat, stirring occasionally, 8 to 10 minutes, until tender but not browned. Add potatoes, celery root, cream, 4 tsp. salt, and 2 tsp. pepper to the pot, stir, and bring to a boil. Lower heat to very low, cover pot, and simmer gently 25 to 30 minutes, stirring occasionally, until vegetables are tender. Be careful—don' let the vegetables scorch on the bottom of the pan! In batches, pour mixture into the bowl of a food processor fitted with a steel blade and pulse until coarsely pureed. Taste for seasonings, return to saucepan, and keep warm over very low heat. If mixture gets too thick, add a little more cream.
If it hasn't already been removed, peel off the tough strip of muscle on the side of each scallop. Pat scallops dry with paper towels and season generously on both sides with salt and pepper.
Heat two 12″ sauté pans over medium-high heat. Add 2 Tbsp. grapeseed oil to each pan, and when oil is almost smoking hot, add half the scallops to each pan. (If you don't have two 12″ sauté pans, cook scallops in batches and keep the first batch warm in a 250° oven until second batch is ready.) Cook undisturbed about 3 minutes, until golden brown on the bottoms. Don't crowd scallops, or they'll steam rather than sear. Using a small metal spatula, turn scallops and cook on the other side 2 to 3 minutes more, until just barely cooked through. (If the pan is hot enough and you let the scallops cook undisturbed, they will not stick to the pan.)
To serve, spoon warm puree onto 6 plates. Place scallops on puree, drizzle with basil oil (if using), and sprinkle with chives.
---
---