Quick & Easy French: Sole Meuniere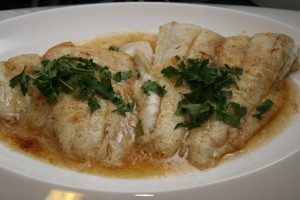 For any of you who have read Julia Child's My Life in France or seen the movie Julie & Julia, you will recognize sole meuniere as the star of Julie Child's first significant meal after arriving in France.  It's incredibly simple — fillets of sole, butter, lemon juice and zest, and parsley — but absolutely delicious.
I was grocery shopping for Easter dinner yesterday when I saw some beautiful sole at the fish counter at Citarella.  Since Tim had been working hard all day on the baby's room, I decided he deserved a special meal.  But given my current state (1 month to go), the special meal needed to be simple and easy.  Sole meuniere fit the bill!
The fishmonger prepared two fillets (~6 -7 oz. each) for me.  I had a pan large enough so I didn't need to cook the fish in two batches.  Given this slight modification to the recipe, I used a bit more butter (4.5 tablespoons) than the Barefoot Contessa recommends for the first two fillets.  I also increased the amount of lemon juice and zest (4-5 tablespoons lemon juice and 1 teaspoon lemon zest) since I wasn't going to cook a second batch of sole.
Two minutes per side is really all the sole needs.  I actually do not have a fish spatula but highly recommend using one to flip and remove the sole from the pan.  It is very delicate.  I had a small amount of breakage.
Plate the sole, pour the sauce over it, sprinkle with kosher salt and pepper and chopped flat-leaf parsley.
Tim and I both loved this dish and the sauteed broccolini I served as a side!  It was a bright and delicious meal, perfect for such a lovely spring day!
Easy Sole Meuniere
Barefoot Contessa
1/2 cup all-purpose flour
Kosher salt and freshly ground black pepper
4 fresh sole fillets, 3 to 4 ounces each
6 tablespoons unsalted butter
1 teaspoon grated lemon zest
6 tablespoons freshly squeezed lemon juice (3 lemons)
1 tablespoon minced fresh parsley
Preheat the oven to 200 degrees F. Have 2 heat-proof dinner plates ready.
Combine the flour, 2 teaspoons salt, and 1 teaspoon pepper in a large shallow plate. Pat the sole fillets dry with paper towels and sprinkle one side with salt.
Heat 3 tablespoons of butter in a large (12-inch) saute pan over medium heat until it starts to brown. Dredge 2 sole fillets in the seasoned flour on both sides and place them in the hot butter. Lower the heat to medium-low and cook for 2 minutes. Turn carefully with a metal spatula and cook for 2 minutes on the other side. While the second side cooks, add 1/2 teaspoon of lemon zest and 3 tablespoons of lemon juice to the pan.
Carefully put the fish filets on the ovenproof plates and pour the sauce over them. Keep the cooked fillets warm in the oven while you repeat the process with the remaining 2 fillets. When they're done, add the cooked fillets to the plates in the oven. Sprinkle with the parsley, salt, and pepper and serve immediately.
Serves 2.
---
---