Looking for Menu Ideas? Real Simple's Four-Week Dinner Plan
I used to grocery shop multiple times per week.  I would just pick up what I needed for dinner that night on my way home from work.  That's not a realistic option now that Charlotte has come along and I am working full time.  Menu planning (and some shortcuts courtesy of Trader Joe's and Fresh Direct) has become key to my weeknight cooking.
October's issue of Real Simple Magazine features a four-week dinner plan.  Not having a ton of time to look for menu ideas, I decided to give Week 1 of the plan a whirl!  I made 4 of the 5 recipes.  They were all quite good but I thought the Penne with Tomatoes, Eggplant, and Mozzarella and the Pork Cutlets with Spicy Noodles really stood out!  Real Simple provided a shopping list making my life even easier!   I bought all of the ingredients on a Sunday and was prepared for a week of tasty, healthy eating!
The four recipes I made are below.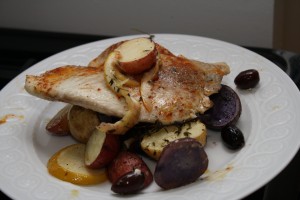 Roasted Tilapia, Potatoes, and Lemons
Very tasty!  I used tri-colored fingerling potatoes which were tasty and provided some great color to the dish.  The lemon and olives lend a great flavor to the very mild tilapia.
1 pound baby potatoes (about 12), halved
1Â lemon, thinly sliced
8Â sprigs fresh thyme
2 tablespoons plus 1 teaspoon olive oil
kosher salt and black pepper
1/2 cup pitted kalamata olives
4Â 6-ounce skinless tilapia fillets
1/2 teaspoon paprika
Heat oven to 400° F.  On a large rimmed baking sheet, toss the potatoes, lemon, thyme, 2 tablespoons oil, and ¼ teaspoon each salt and pepper. Arrange in a single layer.  Roast, tossing once, until the potatoes begin to soften, about 20 minutes.
Toss the olives with the potato mixture; nestle the fish in it. Drizzle the fish with the remaining oil and season with paprika and ¼ teaspoon each salt and pepper.
Continue to roast until the potatoes are golden brown and crisp and the fish is opaque throughout, 12 to 15 minutes.
Penne With Tomatoes, Eggplant, and Mozzarella

Delicious!  I skipped the mint and used basil instead.  I also added some grated parmesan.
1/2 pound penne (1⁄2 box)
1/4 cup olive oil
1 medium eggplant (about 1 1⁄4 pounds), cut into 1⁄2-inch pieces
1/2 pound cherry tomatoes, halved
2 cloves garlic, sliced
1/4 teaspoon crushed red pepper
kosher salt and black pepper
1/2 pound fresh mozzarella, cut into 1⁄2-inch pieces
1/4 cup torn fresh mint leaves
Cook the pasta according to the package directions. Reserve ¼ cup of the cooking water. Drain the pasta and return it to the pot.
Meanwhile, heat the oil in a large nonstick skillet over medium-high heat.
Add the eggplant. Cook, tossing occasionally, until golden brown and tender, 8 to 10 minutes.
Add the tomatoes, garlic, red pepper, ¾ teaspoon salt, and ¼ teaspoon black pepper. Cook, tossing, until the tomatoes soften, 2 to 3 minutes.
Add the tomato mixture to the pasta, along with the mozzarella and reserved cooking water. Toss to combine. Sprinkle with the mint.
Turkey Burgers With Creamy Romaine Slaw
This was my least favorite of the four dishes but it was still tasty!  To save time I used shredded carrots.  And, we used sandwich thins as opposed to buns to save on calories.
1 pound ground dark meat turkey (93 percent lean or less)
1 tablespoon Dijon mustard
1 tablespoon fresh thyme leaves
2 scallions, sliced
kosher salt and black pepper
1 tablespoon olive oil
2 tablespoons mayonnaise
1 tablespoon white wine vinegar
2 leaves romaine lettuce, thinly sliced crosswise (about 2 cups)
1 medium carrot, coarsely grated
4 soft rolls, split and toasted
potato chips and pickles, for serving
In a medium bowl, gently combine the turkey, mustard, thyme, and scallions. Form the meat into four ¾-inch-thick patties. Season with ½ teaspoon salt and ¼ teaspoon pepper.
Heat the oil in a large nonstick skillet over medium heat. Cook the patties until cooked through, 6 to 8 minutes per side.
Meanwhile, in a bowl, whisk together the mayonnaise, vinegar, and ¼ teaspoon each salt and pepper. Toss with the lettuce and carrot.
Serve the burgers on the rolls, topped with the slaw. Serve with chips and pickles (if desired).
Pork Cutlets With Spicy Noodles
This was delicious!  I had trouble finding udon noodles so I used a brown rice spaghetti that I found at Trader Joe's.  The noodles had great flavor from the broth, ginger, and jalapeno.  The pork was delicious as well!  I used two butterflied pork chops.

4 cups low-sodium chicken broth
1 1 1/2-inch piece fresh ginger, peeled and sliced
1/2 pound udon noodles
1/2 pound shiitake mushrooms, stems discarded and caps sliced
1 red jalapeño pepper, sliced
4 thin pork cutlets (about 3⁄4 pound total)
kosher salt and black pepper
1/4 cup all-purpose flour
1 large egg, beaten
3/4 cup panko bread crumbs
2 tablespoons canola oil
2 scallions, sliced
In a large pot, bring the chicken broth and ginger to a boil.
Add the noodles and cook, stirring, until the broth is nearly absorbed and the noodles are al dente, 4 to 6 minutes.
Add the mushrooms and jalapeño and simmer until the mushrooms are just tender, 1 to 2 minutes.
Meanwhile, season the pork with ½ teaspoon salt and ¼ teaspoon pepper. Coat with the flour, then the egg, and finally the panko.
Heat the oil in a large skillet over medium-high heat. Cook the pork until cooked through, 2 to 3 minutes per side.
Slice the pork and serve over the noodles. Sprinkle with the scallions.
---
---