Christmas Cookies: Chocolate Peppermint Thumbprints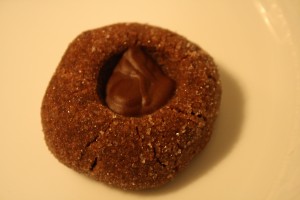 My friend Emily made these cookies for Thanksgiving and they were delicious!  I needed to make a holiday treat for Tim's office so I decided to make them.  What says Christmas more than chocolate + peppermint?!
Do not overbake the cookies.  I followed the instructions exactly and the cookies were so moist and delicious.
To make the chocolate – peppermint filling, all you need is butter, chocolate chips, and some peppermint extract.  You can pipe the filling through a Ziploc bag with a corner cut off.
The cookies were a hit in Tim's office.  I think they were all gone within two days!  I was a little sad I didn't save any for myself but my waistline probably thanks me.
Chocolate Peppermint Thumbprints
Everyday Food
2 cups all-purpose flour (spooned and leveled)
2/3 cup unsweetened cocoa powder
1/4 teaspoon fine salt
1 1/4 cups (2 sticks) unsalted butter, room temperature
1 1/2 cups granulated sugar
1 large egg
1 tablespoon pure vanilla extract
5 ounces semisweet chocolate chips (3/4 cup)
1/2 teaspoon pure peppermint extract
Preheat oven to 350 degrees F, with racks in upper and lower thirds. In a medium bowl, whisk together flour, cocoa powder, and salt. In a large bowl, using an electric mixer, beat 1 cup each butter and sugar on medium-high until light and fluffy, 3 minutes. Add egg and vanilla; beat to combine. With mixer on low, gradually add flour mixture and beat to combine. Place 1/2 cup sugar in a small bowl. Roll dough into 1-inch balls, then roll in sugar to coat. Place balls, 1 inch apart, on two parchment-lined baking sheets. Bake 5 minutes. Remove sheets from oven; with the small end of a melon baller or the bottom of a small round measuring spoon, make an indentation in center of each cookie.
Bake until cookies are just set but still look moist, 4 minutes (do not overbake). Let cool on sheets on wire racks. In a microwave-safe bowl, microwave chocolate chips and ¼ cup butter in 10-second increments until melted; stir in peppermint extract. Let cool until thick enough to pipe, 5 minutes. Transfer mixture to a large zip-top bag; snip 1/4-inch hole in one corner. Pipe chocolate into cookie indentations. (Store in airtight containers, up to 1 week.)
Active time: 35 minutes
Total time: 50 minutes + cooling
---
---