Christmas Cookies: Angeletti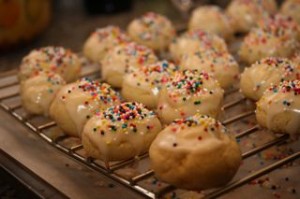 We were supposed to be in the Berkshires this weekend with friends but unfortunately Charlotte got sick.  We planned to get our tree and really get into the Christmas spirit.  Instead, I was in our apartment for 48 straight hours.  But I did have the chance to do some baking.
These cookies from Real Simple are light and fluffy and covered with some delicious icing made from confectioner's sugar.  I love how festive they look with the nonpareils.
Make sure to not over bake the cookies.  7 minutes was perfect in my oven.  Enjoy!
Angeletti
Real Simple
8 tablespoons (1 stick) unsalted butter, melted
1/2 cup granulated sugar
1/2 teaspoon pure vanilla extract
2Â large eggs
2 cups all-purpose flour, spooned and leveled, plus more for rolling the dough
2 teaspoons baking powder
1/4 teaspoon kosher salt
Glaze:
1 1/3 cups confectioners' sugar
1/2 teaspoon pure vanilla extract
2 tablespoons multicolor nonpareil sprinkles, for decoration (optional)
Heat oven to 375° F.
In a medium bowl, whisk together the butter, granulated sugar, vanilla, and eggs until blended. Add the flour, baking powder, and salt and mix until just combined (do not overmix).
With floured hands, roll level tablespoonfuls of the dough into balls and place on parchment-lined baking sheets, spacing them 2 inches apart. Bake until puffed and the bottoms are pale golden, 7 to 8 minutes. Transfer to a rack to cool completely.
Make the glaze: In a small bowl, whisk together the confectioners' sugar, 2 tablespoons water, and the vanilla until the mixture forms a thick but pourable glaze (add more water if necessary).
Dip the top of each cookie into the glaze and let set, rounded side up, on a rack set over a piece of parchment paper. Sprinkle with non-pareils, if using. Allow the glaze to set, about 20 minutes. Store the cookies in an airtight container at room temperature for up to 5 days.
---
---