Spring Roundup
I was getting overwhelmed by my backlog of posts so I decided to do one roundup of recent dishes I've made that are worth sharing. Happy Spring!
---
Braised Chicken with Salami & Olives
https://cooking.nytimes.com/recipes/1016251-braised-chicken-with-salami-and-olives?
For a rainy, cool spring night, this take on chicken cacciatore in incredibly flavorful. Firmer Sicilian olives are recommended.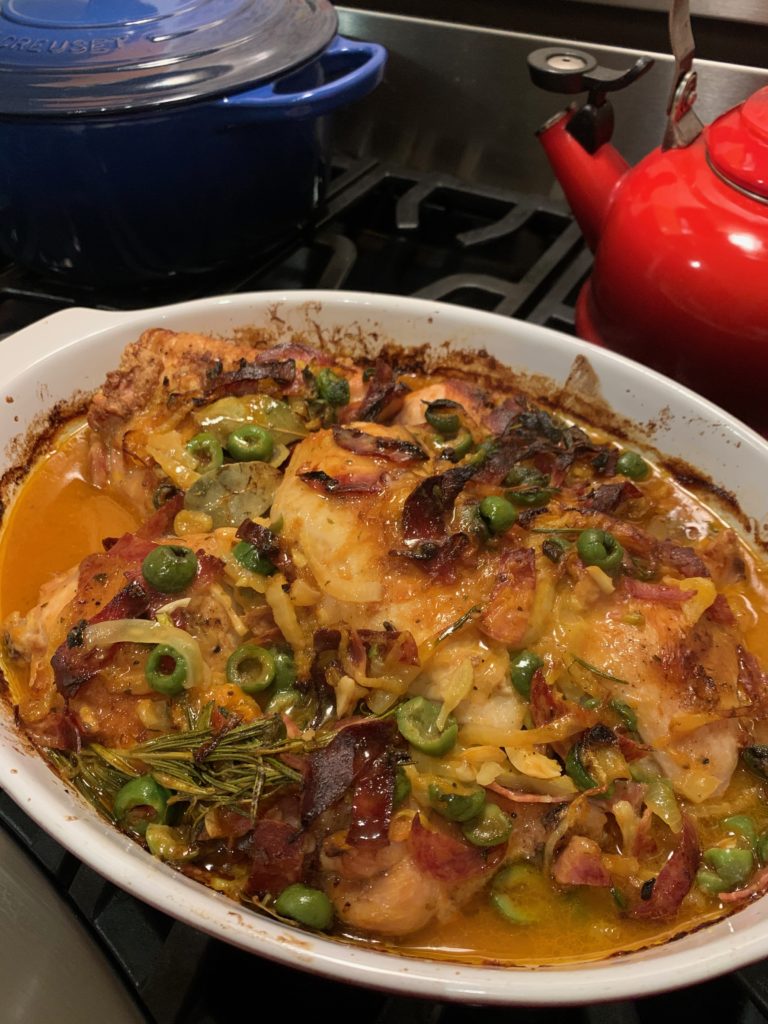 ---
Devil Dog Cake
https://www.epicurious.com/recipes/food/views/devil-dog-cake-241516
Any spring birthdays coming up? This delicious devil's food cake topped with a marshmallow frosting might hit the spot!
---
One-Pan Pork Chops with Feta, Snap Peas & Mint
https://cooking.nytimes.com/recipes/1020278-one-pan-pork-chops-with-feta-snap-peas-and-mint
What says spring more than snap peas and mint? And you all know I love a one-pan dinner. Note: I needed to cook the pork longer than called for in recipe.
---
Lemony Pasta with Asparagus & White Beans
https://cooking.nytimes.com/recipes/1020215-lemony-pasta-with-asparagus-and-white-beans
I made this on Easter for my vegetarian daughter but we all loved it. So bright and flavorful.
---
Carrot Tart with Ricotta and Feta
https://cooking.nytimes.com/recipes/1020174-carrot-tart-with-ricotta-and-feta
What says spring more than a carrot tart! The ricotta and feta combo is delicious and would be amazing on toasted bread.
---
Splayed Roasted Chicken with Caramelized Ramps
https://cooking.nytimes.com/recipes/12428-splayed-roast-chicken-with-caramelized-ramps
Last spring we had the best ramps in the Berkshires. I made this delicious take on roast chicken last spring and just this week — a great use of ramps.
---
Panko & Parmesan Crusted Scallops
https://www.eatingwell.com/recipe/275919/panko-parmesan-crusted-baked-scallops/
This scallop recipes couldn't be simpler! The shallots – lemon – butter create a nice sauce and I always love a crunchy panko topping.
---
---