Vietnamese Lettuce Wraps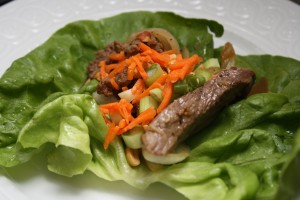 Here is a tasty weeknight meal inspired by Vietnamese cooking.  The beef has a great sweet-savory flavor with a nice kick from lots of black pepper.
The sauce is comprised of fish sauce, soy sauce, lime juice, and light brown sugar.  If you are not familiar with fish sauce, it is a staple in Southeast Asian cooking, especially Thai and Vietnamese.  It is made from fermented fish which sounds disgusting but lends a great salty flavor to recipes.  You can buy it at an Asian grocery or a gourmet food store.  Fish sauce keeps for two years in a dark cabinet.
I actually made the recipe using some leftover ground beef I had defrosted as well as some pre-cut "stir-fry" beef.  I preferred the ground beef but Tim liked the strips of beef better.  You can't go wrong with either.
I served the beef with the chopped peanuts, scallions and shredded carrots.  We used Boston lettuce leaves as wraps but the beef would be delicious over rice.
If you are a bit lighter with the black pepper, I think kids would find this dish quite tasty as well!
Vietnamese-Style Beef with Garlic, Black Pepper, and Lime
Fine Cooking
2 Tbs. soy sauce
2 Tbs. fresh lime juice
1 1/2 Tbs. light brown sugar
1 Tbs. fish sauce
5 cloves garlic, minced
3 Tbs. peanut or canola oil
Kosher salt and freshly ground black pepper
1 1/2 lb. beef tri-tip steak or tenderloin,cut into 3/4-inch pieces
1 medium yellow onion, sliced into 1/4-inch-thick wedges
3 Tbs. chopped salted peanuts, preferably toasted
2 scallions, both green and white parts, thinly sliced 5 cloves garlic, minced
In a small bowl, combine the soy sauce, lime juice, sugar, and fish sauce; stir until the sugar dissolves. In another small bowl, stir the garlic, 1-1/2 tsp. of the oil, and 1-1/2 tsp. pepper.
Season the beef with salt and pepper. In a 12-inch nonstick skillet, heat 1-1/2 tsp.of the oil over medium-high heat until shimmering hot. Swirl to coat the skillet. Add half of the beef in a single layer and cook, without stirring, until well browned, 1 to 2 minutes. Using tongs, turn the pieces over and brown on the other side, 1 to 2 minutes more. Transfer to a medium bowl. Add 1-1/2 tsp. oil to the skillet and repeat with the remaining beef, adding it to the bowl with the first batch when done.
Put the remaining 1-1/2 Tbs. oil in the skillet and heat until shimmering hot. Add the onion and cook, stirring frequently, until it begins to soften, 2 to 3 minutes. Add the garlic mixture and cook, stirring constantly, until fragrant, about 30 seconds. Return the beef and any accumulated juices to the pan and stir to combine. Add the soy sauce mixture and cook, stirring constantly, until the beef and onions are coated and the sauce thickens slightly, 2 to 3 minutes. Serve sprinkled with the peanuts and scallions.
---
---