Enchilada Casserole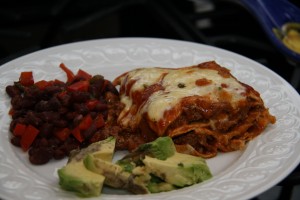 This Mexican-style lasagna will definitely be a crowd-pleaser.
You make a tomato-based sauce with taco seasoning that is similar to an enchilada sauce.  Whole wheat tortillas are layered with a beef mixture tossed in the enchilada sauce and then topped with pepper jack cheese.  YUM!  You can tone down the heat by using Monterey Jack cheese instead of pepper jack.
To lighten the dish, try using ground turkey instead of the sirloin.
I served the dish with avocado and some simply prepared black beans.  Judging by the leftovers (or lack thereof) I would say this recipe was a hit.
Enchilada Casserole
Cooking Light
1 pound ground sirloin
1 cup chopped onion
1 tablespoon butter
1 tablespoon minced garlic
1 1/2 tablespoons all-purpose flour
1 cup fat-free, lower-sodium beef broth
1 tablespoon 40%-less-sodium taco seasoning mix (such as Old El Paso)
1 (8-ounce) can no-salt-added tomato sauce
4 (8-inch) whole-wheat flour tortillas
1/3 cup (1 1/2 ounces) shredded Monterey Jack cheese with jalapeño peppers
Heat a large nonstick skillet over medium-high heat. Add beef and onion to pan; cook 6 minutes, stirring to crumble.
Preheat oven to 400°.
Melt butter in a medium saucepan over medium-high heat. Add garlic; sauté 1 minute. Sprinkle with flour; cook 30 seconds, stirring constantly. Add broth, taco seasoning, and tomato sauce to pan. Bring to a boil; cook 2 minutes, stirring occasionally. Add 1 1/2 cups tomato mixture to beef mixture; reserve 1/2 cup tomato mixture.
Place 1 tortilla in a 9-inch pie plate. Top with 1 cup beef mixture. Repeat layers, ending with tortilla. Spread reserved tomato mixture over tortilla. Top with cheese. Bake at 400° for 10 minutes or until cheese melts. Cool slightly. Cut into 4 wedges.
---
---