Weelicious: Turkey Pesto Meatballs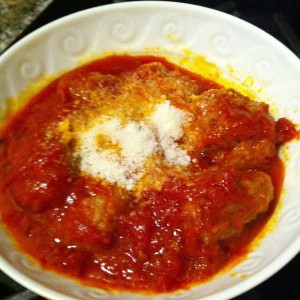 My friend Amy bought me the Weelicious cookbook for my birthday.  The recipes are family-friendly, healthy, and relatively easy to make.
Other than hot dogs, Charlotte is not much of a meat eater.  But I keep trying new things in the hope that I find a dish or two featuring meat that she'll enjoy.  The Weelicious cookbook is proving to be a good source for some recipes Charlotte will enjoy.
These turkey meatballs looked so simple but tasty!  The addition of pesto looked interesting and added a nice flavor.  Charlotte and I both enjoyed them!  She did not devour them but eating one meatball was a win!
One note: I had to cook the meatballs for about 10 minutes longer than the recipe called for.
Turkey Pesto Emails
Adapted from Weelicious Cookbook
1.5 lbs ground turkey
1/4 store-bought pesto
1/4 cup seasoned breadcrumbs
1/4 cup parmesan cheese
1 teaspoon salt
2 to 3 cups tomato sauce (I used Rao's)
Preheat oven to 350 degrees.
Place the turkey, pesto, bread crumbs, cheese, and salt in a large bowl and combine thoroughly.
Pour the tomato sauce into a 9×9 baking pan.
Use about 1 tablespoon per meatball, roll the mixture into balls and place in baking pan.  Cover the baking dish with foil and bake for 25 minutes, or until cooked through.
---
---